Integration of genome-wide datasets to understand regulation of human T-helper cell differentiation
Kanduri, Kartiek (2020-06-05)
---
Integration of genome-wide datasets to understand regulation of human T-helper cell differentiation
(05.06.2020)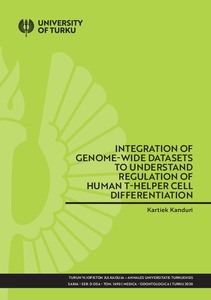 Turun yliopisto
Julkaisun pysyvä osoite on:
https://urn.fi/URN:ISBN:978-951-29-8071-0
Tiivistelmä
T-helper cells are an important part of the immune system and adaptive immunity. Over the course of the immune response, under the influence of various cytokines, T-helper cells differentiate into various subsets each of which have a specific function. Despite the generation of large amounts of data by recent high-throughput studies, the picture of human T-helper cell differentiation is far from complete. The goal of this thesis is to identify and characterize molecular elements potentially involved in T-helper cell differentiation and immune response through generating valuable datasets on immune cells using microarrays and high-throughput sequencing and using a range of bioinformatics methods to analyse the data. To achieve this goal, in the first study, human Th1 and Th2 cell subsets were profiled using transcriptomics and the resulting mRNA and long non-coding (lnc) RNA data was integrated with epigenomics data to understand the relationship between the two during early T-helper cell differentiation. The results revealed several new transcripts differentially regulated by Th1 and Th2 cells during their early specification providing candidates for further studies. In the second study, lncRNAs in autoimmune disease loci were characterized in granulocytes, monocytes, natural killer cells, B cells, memory T cells, naïve CD4+ T cells, and naïve CD8+ T cells. Differentially expressing lncRNAs were found to be enriched in those loci compared to the reference genome. The third study combined proteomics and transcriptomics data and revealed insights into T cell activation and signaling. Finally, the fourth study demonstrated the role of STAT3 in regulating other factors in Th17 differentiation. Moreover, STAT3 was found to bind to genomic loci with genetic variation previously associated with autoimmune diseases. The results of this thesis identify several factors important for immune cell subsets and characterize their role particularly in T-helper cell differentiation. The datasets generated as part of this thesis provide a valuable resource for the community.