Village landscape from near and far : Participatory geospatial methods to integrate local knowledge into formal land use planning in Tanzania
Eilola, Salla (2020-06-25)
---
Village landscape from near and far : Participatory geospatial methods to integrate local knowledge into formal land use planning in Tanzania
(25.06.2020)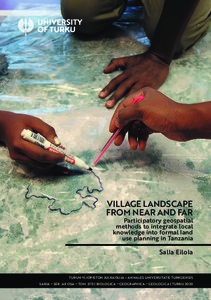 Turun yliopisto
Julkaisun pysyvä osoite on:
https://urn.fi/URN:ISBN:978-951-29-8097-0
Tiivistelmä
In this dissertation, I explore the use of participatory geospatial methods in improving local knowledge integration and inclusiveness in formal land use planning in Tanzania. Communities and governments in the Global South are tackling multiple challenges to human well-being and ecological integrity. Participatory land use planning that combines knowledge sources and balances needs and values of different land users has been promoted as a prerequisite for addressing these challenges in a socio-ecologically sustainable way. Land use planning practice requires tools such as participatory geospatial methods that capture local spatial knowledge (LSK) on human-environment relationships in forms that are compatible with spatial planning standards. There exists, however, little evidence on the usability and impact of these methods in formal planning processes. For my research, Tanzania offers an exciting opportunity to examine the use of these methods due to its decentralized land and natural resource policies and rapid digitalization of planning processes. Through case studies I study what LSK reveals about land use and land use management-related decision-making, how existing Tanzanian land use planning policies and practices integrate LSK into planning decision-making, and I then codevelop participatory geospatial methods capable of integrating LSK into formal land use planning and study their benefits and adoption potential. Finally, I reflect on the limitations of the geospatial methods in representing LSK and diverse perspectives in these processes.

The research is based on transdisciplinary and mixed methods approach. I frame my assessments of existing policies and practices with literature-based criteria, which I develop for each study. In each study, I also collaborate with Tanzanian practitioners at various research phases and develop a practitioners' manual to guide the use of our participatory geospatial method. I combine interviews, group discussions, surveys, participatory mapping exercises and observations to study the relationship between people, their land uses and environment (Article I) and people's experiences in planning processes (Articles II, III and IV).

The findings show that local knowledge is instrumental in identifying land use patterns in the landscape and in explaining the rationale behind local land use, its dynamics and forest-farmland conversion (Article I). The analysis of existing policies and practices reveals that despite the emphasis on inclusive and active participation of local communities, the planning practice does not capture LSK in a georeferenced form or use geospatial tools to facilitate planning deliberation (Articles II and III). Subsequently the plans fail to recognize local priorities and complexities of land use. The codeveloped participatory geospatial method was observed to increase the quality of spatial data in which LSK is captured, and support learning, deliberation and spatial understanding among participants and practitioners during the formal planning process (Articles III and IV). The planning practitioners identified several benefits of the geospatial methods to their work, which is a strong incentive for adoption (Article IV). Wider adoption, however, requires efforts in geospatial education and on-the-job training to practitioners, as well as general commitment to participatory processes at all administrative levels. While the participatory geospatial methods improve integration of LSK into planning decision-making, future research and method development should focus on recognizing the diversity of local spatial knowledge and community priorities. Here self-determination of what LSK is collected and how it is visualized and used plays an important role.