Towards Mandatory Human Rights Due Diligence : Complementing the UNGPs with the Proposed Treaty to Enhance Corporate Human Rights Responsibility
Silventoinen, Noora (2020-04-16)
---
Towards Mandatory Human Rights Due Diligence : Complementing the UNGPs with the Proposed Treaty to Enhance Corporate Human Rights Responsibility
(16.04.2020)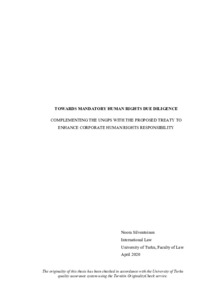 Julkaisu on tekijänoikeussäännösten alainen. Teosta voi lukea ja tulostaa henkilökohtaista käyttöä varten. Käyttö kaupallisiin tarkoituksiin on kielletty.

avoin
Julkaisun pysyvä osoite on:
https://urn.fi/URN:NBN:fi-fe2020063046411
Tiivistelmä
Corporations have an ever-increasing influence on international human rights. However, public international law hardly ever regulates corporate conduct directly and the debate is stuck on the theoretical question of corporate subjectivity in international law. International soft law regimes, such as the UN Guiding Principles on Business and Human Rights, constitute a major progress on the field by bringing together the corporate world and international human rights law in an unprecedented way. Nevertheless, it is evident that none of the current international instruments regarding business and human rights are binding in a judicial sense. They rely their efficiency on the voluntary implementations on national level and the power of social expectations, both of which have their own issues.
From this starting point, the study examines the need to set binding international human rights law standards for business and human rights. The focus is further directed to the process of human rights due diligence, which comprises an ongoing management process that a corporation needs to undertake to analyze the impacts of its activities on human rights. The need to shift towards mandatory business and human rights regime is currently being addressed by the intergovernmental working group on transnational corporations and other business enterprises with respect to human rights, which is in the spring 2020 in the middle of the process of drafting a legally binding instrument.
The study finds that both the UNGPs and the new proposed treaty have their own strengths and weaknesses, and that it is necessary to continue with a plurality of initiatives to most effectively enhance corporate human rights responsibility. However, the study concludes that a mandatory human rights due diligence would provide a solution which both clarifies the expectations on corporations to have an adequate human rights due diligence processes in place and provides an effective corporate accountability mechanism.
The study arrives at these conclusions by analyzing extensively material related to the UN Guiding Principles as well as the new treaty process. The most important sources also include a wide range of scholarly material, such as Human Rights Obligations of Business — Beyond the Corporate Responsibility to Respect edited by Surya Deva and David Bilchitz and A Theory of Legal Responsibility by Steven Ratner.
Yritysten vaikutus kansainvälisiin ihmisoikeuksiin kasvaa jatkuvasti. Kansainvälinen julkisoikeus ei kuitenkaan lähes koskaan sääntele yritystoimintaa suoraan, ja keskustelu on juuttunut teoreettiseen kysymykseen yritysten oikeushenkilöllisyydestä kansainvälisessä oikeudessa. Kansainväliset soft law -lähteet, kuten YK:n yrityksiä ja ihmisoikeuksia koskevat ohjaavat periaatteet, edustavat merkittävää edistymistä tällä alalla yhdistämällä yritysmaailman ja kansainvälisen ihmisoikeuden ennennäkemättömällä tavalla. Siitä huolimatta on selvää, ettei mikään nykyisistä yritystoimintaa ja ihmisoikeuksia koskevista kansainvälisistä välineistä ole sitova oikeudellisessa mielessä. Niiden tehokkuus perustuu kansallisen tason vapaaehtoisiin toteutuksiin ja sosiaalisten odotusten voimaan, joihin molempiin liittyy omat haasteensa.
Tästä lähtökohdasta käsin tutkimuksessa selvitetään tarvetta asettaa sitovat kansainväliset ihmisoikeusstandardit yritystoiminnalle ja ihmisoikeuksille. Tutkimuksessa keskitytään edelleen huolellisuusvelvoitteen prosessiin, joka käsittää jatkuvan riskienhallintaprosessin, joka yrityksen on suoritettava analysoidakseen toimintansa vaikutuksia ihmisoikeuksiin. YK:n ihmisoikeusneuvoston hallitusten välinen työryhmä käsitellee tällä hetkellä tarvetta siirtyä pakottavaan sääntelykenttään yritystoiminnan ja ihmisoikeuksien saralla, ja se on keväällä 2020 keskellä prosessia laatia kansainvälinen oikeudellisesti sitova asiakirja ihmisoikeuksista monikansallisten yhtiöiden ja muiden yritysten toiminnassa.
Tutkimuksen mukaan sekä YK:n ohjaavilla periaatteilla, että uudella ehdotetulla sopimuksella on omat vahvuutensa ja heikkoutensa, ja on välttämätöntä jatkaa useilla aloitteilla, jotta voidaan parantaa tehokkaimmin yritysten ihmisoikeusvastuuta. Tutkimuksessa päädytään kuitenkin siihen, että pakottava huolellisuusvelvoite tarjoaisi ratkaisun, joka sekä selventää yrityksille asetettuja odotuksia siitä, että niillä on asianmukaiset prosessit huolellisuusvelvoitteen toteuttamiseksi että tarjoaa tehokkaan yritysvastuumekanismin.
Tutkimuksessa päädytään näihin johtopäätöksiin analysoimalla laajasti YK:n ohjaaviin periaatteisiin ja uuteen sopimusprosessiin liittyvää materiaalia. Tärkeimpiin lähteisiin sisältyy myös laaja valikoima oikeuskirjallisuutta, kuten Surya Devan ja David Bilchitzin toimittama Human Rights Obligations of Business — Beyond the Corporate Responsibility to Respect sekä Steven Ratnerin A Theory of Legal Responsibility.
Samankaltainen aineisto
Näytetään aineisto, joilla on samankaltaisia nimekkeitä, tekijöitä tai asiasanoja.
Saarinen, Heidi

(

18.05.2020

)

This study examines the function of human rights appeals and ideology in authority construction and legitimation of sexual and reproductive health and rights (SRHR) in Accelerate Progress – Sexual and Reproductive Health ...

avoin

Kahiluoto, Joanna

(

Turun yliopisto

,

27.06.2018

)

The increasing use of indicators in global governance facilitates transforming complex phenomenon into simple and easily comparable numbers. There are, however, certain implications in employing indicators into international ...

<p>The question of what kinds of constellations of personal relationships are recognised as family life by Member States of the Council of Europe has been under intense litigation in recent years in the European Court ...