Surface dissolution and degradation of dental resin-based materials with special emphasis by the effects of solvent ethanol, dimethacrylate monomer resin and catalyst solution of ethylene glycol
Basavarajappa, Santhosh (2020-08-14)
---
Surface dissolution and degradation of dental resin-based materials with special emphasis by the effects of solvent ethanol, dimethacrylate monomer resin and catalyst solution of ethylene glycol
(14.08.2020)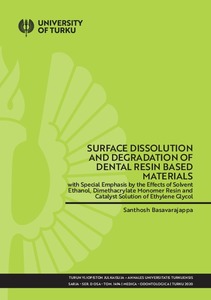 Turun yliopisto
Julkaisun pysyvä osoite on:
https://urn.fi/URN:ISBN:978-951-29-8110-6
Tiivistelmä
In today's modern dentistry, various synthetic materials are used for the replacement or restoration of the missing teeth or parts of teeth structures. These are primarily either polymers or composite materials. The evolution of the synthetic polymers dates back to the use of natural rubbers to poly(methylmethacrylate), (PMMA) to the present-day use of cross-linked copolymers and interpenetrating polymer network (IPN). One commonly used polymer is the group of denture base polymers where polymer beads of poly(methylmethacrylate) and the monomer of methylmethacrylate (MMA) form multiphase polymer system. During the phase of polymerization, some residual MMA monomers are left unconverted and heat-cured however, auto polymerized denture base polymers differ in this respect. In crosslinked dental resins, monomers are typically bis-phenol A-glycidyl methacrylate (bis-GMA) and triethylene glycol dimethacrylate (TEGDMA) or epoxies and they on combination with PMMA form IPN polymer. This study aimed to investigate surface crazing and surface dissolving of dental polymer with solvent and disinfectant ethanol by chemical reaction of transesterification. Scanning electron microscopy, infrared spectroscopy, and Nanoindentation were used as the research methods.

The outcomes of the study on various dental polymers suggested that ethanol had a significant influence on affecting the surface roughness, and nanomechanical properties with surface topographical changes of denture base polymers. The effect of ethanol was dependent on time and concentration. Transesterification of the crosslinked bis-GMA based substrate was seen on contrary to the epoxy resin, which did not show signs of transesterification. This was explained by the lack of the ester group in the mainly studied epoxy polymer.