Congenital abdominal wall defects in Finland 1993-2014 : Epidemiology and risk factors
Raitio, Arimatias (2020-08-21)
---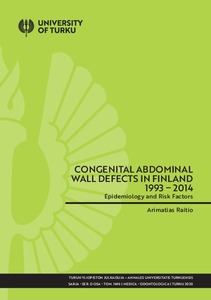 Turun yliopisto
21.08.2020
Julkaisun pysyvä osoite on:
http://urn.fi/URN:ISBN:978-951-29-8117-5
Tiivistelmä
Congenital abdominal wall defects are a group of malformations among which gastroschisis and omphalocele are the most common. In omphalocele, abdominal organs are herniated through an open umbilical ring and the defect is covered by membranes. Omphalocele is often associated with other severe anomalies and reasonably high mortality. Gastroschisis, on the other hand, is an open abdominal wall defect lateral to the umbilical cord. Contrary to omphalocele, it carries a far better prognosis. For unknown reasons, the prevalence of gastroschisis has increased dramatically worldwide over the last decades.

The first aim of this study was to assess the national prevalence, mortality, and pregnancy termination rates of both gastroschisis and omphalocele, and to identify associated anomalies. In the second phase, the aim was to identify potential maternal risk factors for both abovementioned anomalies. The analysis is based on several national registries, the majority of which are upheld by the Finnish Institute for Health and Welfare.

The prevalence and mortality rates of both gastroschisis and omphalocele in Finland were comparable with previous worldwide reports. However, the pregnancy termination rate for gastroschisis was significantly higher than previously reported and it was speculated to be due to insufficient antenatal counselling. Young maternal age was a risk factor for gastroschisis. Obesity and diabetes increased the risk of omphalocele, while maternal obesity was protective for gastroschisis. In general, maternal prescription drug exposures during early pregnancy appeared safe, and extended spectrum penicillins significantly reduced the risk of omphalocele. In conclusion, survival for congenital abdominal wall defects in Finland is high and comparable with other high-income countries. Novel association between extended spectrum penicillins and the risk of omphalocele warrants further studies.