Surface and bulk analysis of Sr2FeMoO6 thin films – Sr2FeMoO6 based spin valve
Angervo, Ilari (2020-09-26)
---
Surface and bulk analysis of Sr2FeMoO6 thin films – Sr2FeMoO6 based spin valve
(26.09.2020)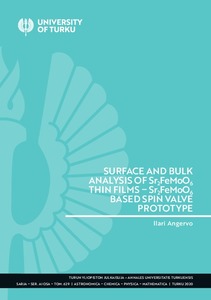 Turun yliopisto
Julkaisun pysyvä osoite on:
https://urn.fi/URN:ISBN:978-951-29-8139-7
Tiivistelmä
This thesis deals with the analysis of Sr2FeMoO6 (hereafter refered to as SFMO) thin films. The material is a part of a versatile double perovskite structure family and exhibits potential attributes for basic scientific interest and for spintronic application research. The introduction begins by outlining some of the features of SFMO as a material. The basic physics relevant for this work is also discussed.

The experimental work has been mostly carried out in the Wihuri Physical Laboratory and is largely build around the fabrication and the characterization of SFMO thin films. All the SFMO thin film samples have been deposited using a pulsed laser deposition equipment. The characterization includes a surface sensitive atomic and magnetic force microscopy along with a scanning tunneling microscopy technique. The surface sensitive spectroscopy analysis for electronic structure is done using x-ray photoelectron spectroscopy. In addition, the structural characterization includes a bulk sensitive x-ray diffraction technique and magnetometry measurements.

Based on the conducted work for the structural, magnetic and electronic characterization on the SFMO films, the effects of the deposition parameters are reported. The results demonstrate the influence of substrate materials, setting a possible threshold thickness for the films to overcome the interface defects and altering the orientation of the magnetization easy axis. The atomic force microscopy method showed an improvement in thin film surface structure, as lower surface roughness, with 900 _C deposition temperature compared with higher deposition temperatures. The surface structure of the SFMO films showed evidences of a single unit cell layer growth combined with island like growth. The electronic characterization revealed that the surface contamination in the SFMO films can be cleansed with ex-situ post-annealing. The annealing leads to significant valence fluctuation without any obvious unwanted side effects on SFMO.

As a finishing touch to this work, the recent advancement in spin valve deposition is reported. The results demonstrate, to our knowledge, the first spin valve effect in SFMO thin film based devices with an organic semiconductor transport layer. The results show a notable spin valve effect at low temperature. Magnetoresistance shows a clear decay with increasing temperature, but the magnetoresistance response close to room temperature is still observed.