Novel aspects of insulin resistance: focus on the brain. Studies using positron emission tomography
Rebelos, Eleni (2020-09-11)
---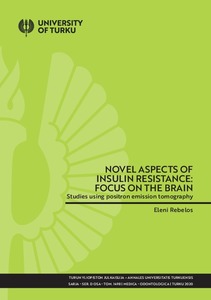 11.09.2020
Julkaisun pysyvä osoite on:
http://urn.fi/URN:ISBN:978-951-29-8151-9
Tiivistelmä
We are currently facing a global epidemic of obesity, which poses a great challenge for the global health. Insulin resistance is the common soil that links obesity and type 2 diabetes. Whereas most lifestyle interventions fail, bariatric surgery has been a powerful weapon in the battle against obesity. Preclinical data have shown that the brain may directly control the determinants of glucose tolerance, namely insulin sensitivity and insulin secretion. We used positron emission tomography, to study whether brain metabolism assessed as brain glucose and/or brain fatty acid uptake is related to the endogenous glucose production (EGP), and ß-cell function. Moreover, we addressed whether there are differences in brain fatty acid uptake between morbidly obese and lean individuals as well as the effect of significant weight loss induced by bariatric surgery. Finally, we investigated whether brain substrate handling predicted any metabolic outcome at follow-up.

We found that in morbidly obese subjects brain glucose uptake (BGU) correlated positively with EGP, and that this association remained significant also six months after surgery. On the contrary, there was no such association in the lean subjects. In 52 non-diabetic subjects to whom ß-cell modeling was performed, insulin-stimulated BGU correlated also with the basal insulin secretion, total insulin output and potentiation of glucose-stimulated insulin secretion. Contrastingly, in 15 patients with type 2 diabetes BGU and insulin secretion did not correlate, but there was a significant inverse correlation between BGU and potentiation. Cross-sectionally in 34 studied women, brain fatty acid uptake (BFAU) also correlated negatively with potentiation, and similar trends were seen both in non-diabetics and diabetics.

Finally, we found that, unlike in lean individuals, BFAU is increased in morbidly obese subjects, and that six months after bariatric surgery, BFAU remained unchanged. Baseline BGU and baseline BFAU predicted worse glucose control at two-year follow-up after bariatric surgery.

In conclusion, this thesis work shows that brain substrate handling differs in obese and lean individuals and that brain metabolism may be a direct way of controlling whole-body homeostasis in humans. Moreover, in two different datasets, increased brain substrate uptake at baseline predicted worse metabolic outcome after bariatric surgery.