Clinical application of novel circulatory biomarkers in epithelial ovarian cancer
Salminen, Liina (2020-10-03)
---
Clinical application of novel circulatory biomarkers in epithelial ovarian cancer
(03.10.2020)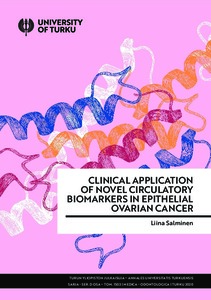 Turun yliopisto
Julkaisun pysyvä osoite on:
https://urn.fi/URN:ISBN:978-951-29-8163-2
Tiivistelmä
Epithelial ovarian cancer (EOC) encompasses a heterogenous group of malignancies with a poor overall survival rate. The two root problems behind the poor survival of patients are the lack of precise enough biomarkers to enable screening and early detection of the disease and the development of a chemotherapy resistant, fatal disease.

Cancer antigen 125 (CA125) is currently the only biomarker validated and widely adopted in the diagnosis, treatment monitoring and follow-up of EOC. However, CA125 is not the ideal biomarker, as it is non-specific for EOC and does not reliably express changes in tumor load. In the current study, the feasibility of four novel biomarkers were investigated: CA125-STn and -MGL, human epididymis protein 4 (HE4) and circulating tumor DNA (ctDNA).

This prospective study included 253 women with histologically confirmed EOC, 317 women with benign gynecological diseases and 36 healthy controls. Both CA125- STn and -MGL differentiated EOC from benign diseases with improved specificity compared to conventional CA125. In the longitudinal analyses, HE4, CA125-STn and -MGL, contrarily to CA125, showed good correlation with tumor burden. In addition, HE4 at the time of progression predicted the survival of patients. The longitudinal mutation tracking of plasma ctDNA revealed dynamic, actionable mutations during EOC treatment and follow-up.

CA125-STn and -MGL are EOC-specific biomarkers that showed, similar to HE4, good prognostic potential. The CA125 glycoform assays utilize a robust and affordable measurement technique, which makes them feasible biomarkers also in the clinical setting. Based on the current study, HE4 is an indicator of disease aggressiveness and might be a potential tool in the selection of targeted second line treatments. Similarly, the ctDNA analyses revealed actionable mutations enabling the individual treatment of selected HGSC patients. Overall, these novel biomarkers represent state of the art approaches in the diagnosis, treatment monitoring and follow-up of EOC.