A conceptual framework for the autopoietic transformation of societies
Malaska, Pentti (1999)
---
A conceptual framework for the autopoietic transformation of societies
(1999)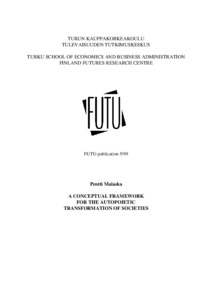 Turun yliopisto. Turun kauppakorkeakoulu
Julkaisun pysyvä osoite on:
https://urn.fi/URN:ISBN:951-738-989-2
Tiivistelmä
The world is in a transient period of development. The term transient in this occasion means that a more or less stable world state or development stage prevailing is been destabilized and fluctuating relatively rapidly in a seemingly irregular fashion. The concept of development is thus composed of successive stages following each other and of a transient period between them. From a human point of view every transient period bears a twin message, a negative one of threats to be met and a positive one of new options and potentialities for proactive and visionary renewal to be challenged. Both of them may become self-amplifying and autopoietic. At first glance, an attempt to find a common pattern to development of different human societies might thus appear more readily uninteresting than interesting and something commanding to over-stress minor similarities among people and neglect important dissimilarities between them. A good example of this fear would be the most problematized area of the world society, Sub-Saharan Africa with its artificial political divisions between nations, ethnic and tribal diversities, colonial heritage, political unrest and so on, differ in many ways from societal orders elsewhere. However, when we regard development as a pattern of a general complex framework it allows to separate the logical forms of the entities from the context laden contents of different societies, and the above mentioned fallacy may be removed. The theory of complex systems with dissipative structures serves for that purpose in this article.