Sociocultural transients of work in the late-industrial period : USA and Finland as the empirical cases
Malaska, Pentti (1998-03)
---
Sociocultural transients of work in the late-industrial period : USA and Finland as the empirical cases
(03 / 1998)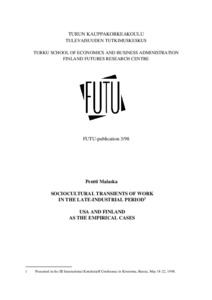 Turun yliopisto. Turun kauppakorkeakoulu
Julkaisun pysyvä osoite on:
https://urn.fi/URN:ISBN:951-738-921-3
Tiivistelmä
The changes of societies and their global co-operation at present have many layers with their pertinent aspects to be observed and understood. Conventional real economy business cycling is mixed with sudden and short-term tremors of the monetary and financial part of the economy, i.e. of the symbol economy. And in addition to these changes there is a more fundamental long-term transformation taking place at the same time and mixing with the whole of the change pattern. One of the most crucial aspects of this societal transformation is the transformation of work. This paper describes and analyses the change of work, employment and dominating mode of rationale from the agricultural societies to the present industrial societies, and beyond the present situation. The present situation is called a late-industrial transient period, and it is regarded as a transient phase of development between the prevailing but diminishing industrial society and a coming service economy. The empirical data of the sectarian analysis of OECD countries is presented, and the occupational data of USA and Finland is used with the Swyt´s model in order to make comparisons and projections to the future.