COOLEST STUDENT PAPERS AT FINLAND FUTURES RESEARCH CENTRE 2019–2020 : Tulevaisuuden tutkimuskeskuksen valittuja opiskelijatöitä 2019–2020
---
COOLEST STUDENT PAPERS AT FINLAND FUTURES RESEARCH CENTRE 2019–2020 : Tulevaisuuden tutkimuskeskuksen valittuja opiskelijatöitä 2019–2020
Toimittajat
Minkkinen, Matti
Ahlqvist, Toni
Kaboli, Akhgar
Kolehmainen,Jari
Mäki, Maija
Parkkinen, Marjukka
Siivonen, Katriina
Tapio, Petri
Arvonen, Anne
(04.11.2020)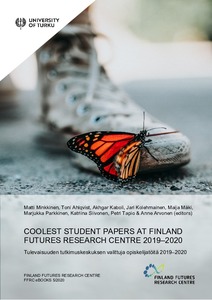 Turun yliopisto. Turun kauppakorkeakoulu
Julkaisun pysyvä osoite on:
https://urn.fi/URN:ISBN:978-952-249-547-1
Tiivistelmä
Welcome to explore the world of futures studies through the fresh new voices of students! This collection includes some of the most interesting student papers that have been submitted on futures studies courses offered by the University of Turku and Finland Futures Academy. What makes a student paper cool? Looking at the papers in this collection, we can see that they are certainly different from each other. Some are more scholarly and analytical, some are more reflective, some are individual works, while others are written by a team. Thus, there is no universal set of characteristics for a 'cool student paper'. Nevertheless, each paper demonstrates some aspects that we as teachers like to see in student papers, whether it's clarity of argumentation, ability to apply key concepts, an innovative choice of topic or something else.

The reason behind this publication is that our students devote a great deal of effort to write high-quality papers, and therefore it is fair to give an opportunity to publish the most interesting papers for a larger audience. This collection provides a kind of public forum to consider futures studies from novel and interesting student perspectives. Of course, only a small selection of many high-quality student papers can be included in this volume.

This collection is divided into sections according to courses. Each section begins with an introduction to that particular course and the papers selected from the course. Courses range from systems thinking and sustainable development to futures research methods and futures of democracy. Most papers are in English, but there are also papers in Finnish in the latter part of the collection. The papers can be read in any order based on personal interest, but reading the course introductions provides valuable context for the papers.

Each of the papers opens a slightly different window into futures studies. We encourage you to let the enthusiasm behind these papers reach you and stimulate you to think about, and rethink, futures studies. We hope that you enjoy reading these student papers as much as we teachers did.