Mass and radius constraints for neutron stars using X-ray timing, spectral, and polarization observations
Salmi, Tuomo (2020-12-11)
---
Mass and radius constraints for neutron stars using X-ray timing, spectral, and polarization observations
(11.12.2020)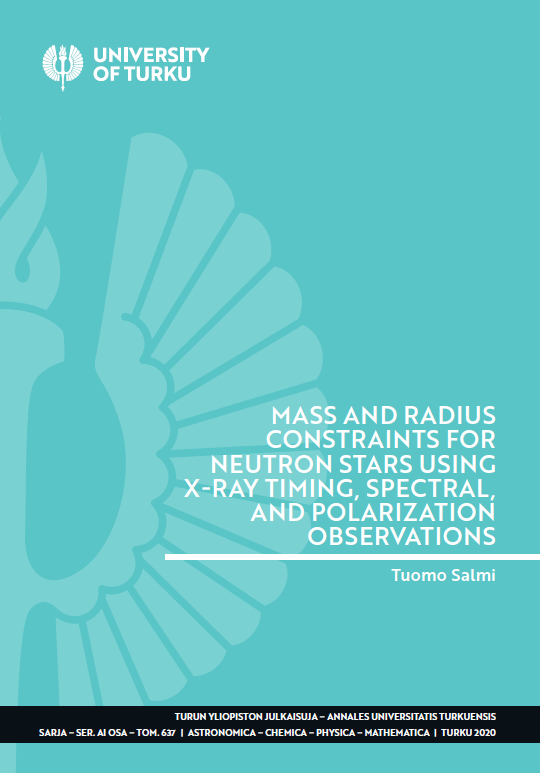 Turun yliopisto
Julkaisun pysyvä osoite on:
https://urn.fi/URN:ISBN:978-951-29-8278-3
Tiivistelmä
Neutron stars (NSs) are the most dense objects in the Universe that can be directly observed. The nature of the cold ultra-dense matter inside them is still unresolved, and determining the equation of state (EoS) of that matter is a fundamental problem in nuclear physics. Measurements of sizes and masses of NSs can be used to constrain the EoS, and thus NSs can be described as astrophysical laboratories for nuclear physics.

The size (or radius) and mass measurements can be done, for example, using the X-ray timing observations of millisecond pulsars (MSPs), which are very rapidly rotating NSs. In the first part of this thesis, I have presented a framework that can be used to model the observed X-ray pulse profiles from MSPs and to obtain constraints for the model parameters, including NS mass and radius. I have also estimated how the upcoming X-ray polarization measurements will improve the constraints. In addition, I have shown that there also exist problems in the current models in explaining all the features of the X-ray data. Especially, the emission pattern from an atmosphere of an accretion-powered millisecond pulsar (AMP) should be accurately solved for more robust estimates.

Moreover, modelling NS atmospheres is not only important for AMPs, but also essential for pulse profile modelling of rotation-powered millisecond pulsars (RMPs), and that is considered in the second part of the thesis. I have studied the importance of the exact formulation of Compton scattering in the RMP atmospheres and created a novel model for RMP atmospheres heated by magnetospheric return-currents. This model differs from the preceding ones in that it does not assume that all the heat is released in the deepest layers of the atmosphere. The results imply that the emission pattern also from RMP surface may significantly deviate from that predicted by previous models, which could affect also the recent radius constraints obtained from the observations of Neutron star Interior Composition ExploreR (NICER) instrument.

In the final part of the thesis, I have studied, in more detail, how the upcoming X-ray polarization observations of rapidly rotating NSs can be accurately modelled accounting for the flattened shape of the star and used to obtain further constraints on the EoS of ultra-dense matter. The results show that the unknown physics of NS interiors can be probed by combining X-ray timing, spectral, and polarization measurements of MSPs.