Re/configuring national interests in the global field of higher education : International student recruitment policies and practices in Finland and China
Jokila, Suvi (2020-12-18)
---
Re/configuring national interests in the global field of higher education : International student recruitment policies and practices in Finland and China
(18.12.2020)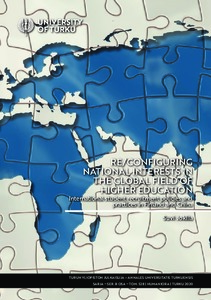 Turun yliopisto
Julkaisun pysyvä osoite on:
https://urn.fi/URN:ISBN:978-951-29-8294-3
Tiivistelmä
In this dissertation, internationalisation policy changes in Finland and China are studied, with a particular focus on international student recruitment. The main objective is to understand how policy change is constructed in policy texts and how recruitment policies are communicated to prospective international students. Internationalisation policy documents and websites targeted at international students serve as the primary data sources analysed through content, rhetorical and Bacchi's 'what's the problem presented to be' analyses.
Once a rather marginalized activity, internationalisation policies in higher education have turned into a key policy field. For both Finland and China, internationalisation policies have played a significant national role by supporting wider societal opportunities and developing a higher education system. Since the end of the 1980s, Finland has become more open to the West, sending students abroad for international short-term study experiences. As part of the opening up policy introduced by Deng Xiaoping, China also developed a strategy to send their students abroad for degree studies. Later, these export strategies are accompanied with internationalising home campuses that included recruiting international students. Within a global context, these two countries can be considered non-traditional destinations for studying abroad.
As a comparative approach, I follow the contrasting contexts approach to interpret and understand the phenomenon in their contexts rather than striving for generalisation. The higher education systems in Finland and China demonstrate significant differences. Finland is a Nordic welfare state with no tuition fees (with the exception of students outside the EU and EEA countries) and a small-scale lowhierarchical higher education system. China portrays itself as a socialist market economy that has a hierarchical, large-scale higher education system with tuition fees for both Chinese and international students. Both countries contribute to funding higher education and employ policy instruments to steer their policy objectives.
This dissertation consists of four articles and a summary. This study shows that the internationalisation policy in higher education is built on a strong national interest that is reconfigured with time (from 1980s to 2010s). Developed jointly with broader socio-economic openings, both countries have developed their internationalisation policies to resemble the characteristics of their higher education systems. Moreover, Finland has transitioned to reorient its internationalization policies, which is in contrast with some of the underlining principles in which the system is embedded.
In the Finnish case, internationalisation policy is comprehensively and rather openly conducted to target all its higher education institutions through national steering mechanisms including laws, policies, funding, and evaluations. The rationalisation for international student recruitment is a combination of reasons that relate to and support each other. These include skilled immigration, commercial interest, status, and internationalisation at home. The introduction of tuition fees for international students and the commercialisation discourse used in policy documents shows that international education and students are detached in higher education policy. In Finnish policy documents, rhetorical choices used to support the changes in policy have shifted from the crisis rhetoric to emphasising opportunities connected to inward international student mobility. This study identified three phases in the development of international degree programmes in Finland: 1) inauguration of international programmes (late 1980s to late 1990s), 2) structural reform and legislative steering (from the early 2000s to the early 2010s) and 3) towards commercialization and privatization (late 2000s–). These phases denote incremental change from marginal activity of the international programmes to the focus of commercial interest that is embedded in its historical contexts.
In China, the internationalisation policy terrain is more sensitive and less open to the global audience. National rationales for recruiting international students relate to soft power policies and the development of world-class universities, which are supported with scholarship programmes.
In this study, the embeddedness of international student recruitment strategies in practice was analysed with websites targeting prospective students for both Finnish and Chinese campuses. The analysis shows that national strategies in Finland are communicated to applicants by referring to working opportunities after graduation or with commercial orientation showcasing fee structures and scholarships. Chinese websites rely on culturally constructed representations. In addition, websites construct holistic study choices that reinforce nationally embedded choice. To support decision making, websites (particularly private ones) employ devices to highlight distinctions and affirmations between different choices.
In this study, I argue that nationally crafted internationalisation policies are embedded in national interests. Both policies and websites in this study reproduce representations that serve the national rationalisations. The nationally defined internationalisation policy objectives have repercussions for the fabric of the university, international students and education alike.
Kansainvälisten opiskelijoiden rekrytointipolitiikka ja käytännöt Suomessa ja Kiinassa
Tässä väitöskirjassa tutkitaan kansainvälistymispolitiikan muutosta Suomessa ja Kiinassa keskittyen erityisesti kansainvälisten opiskelijoiden rekrytointiin. Päätavoitteena on ymmärtää, miten muutosta rakennetaan politiikkateksteissä ja miten rekrytointipolitiikasta kommunikoidaan mahdollisille tuleville kansainvälisille opiskelijoille. Tutkimusaineiston muodostavat kansainvälistymiseen keskittyvät politiikkatekstit ja tuleville opiskelijoille suunnatut internetsivut. Aineisto analysoidaan sisällönanalyysillä, retoriikka-analyysillä ja Bacchin 'what's the problem presented to be' –analyysillä.
Korkeakoulujen kansainvälistymispolitiikka on siirtynyt marginaalisesta asemasta poliittiseen keskiöön. Sekä Suomelle että Kiinalle kansainvälistymispolitiikalla on ollut merkittävä kansallinen rooli tukien laajempaa yhteiskunnallista ja korkeakoulutuksen kehitystä. 1980-luvun lopusta lähtien Suomi avautui länteen lähettäen opiskelijoita lyhytkestoiseen kansainväliseen vaihtoon. Kiina on sitten Deng Xiaopingin avoimien ovien politiikan myötä osallistunut tutkinto-opiskelijoiden lähettämiseen ulkomaille. Myöhemmin opiskelijoiden lähettämisstrategia on täydentynyt kotikampusten kansainvälistämiseen mukaan lukien aktiivisen opiskelijarekrytoinnin. Globaalissa kontekstissa voidaan sanoa, että nämä maat edustavat epätyypillisiä opiskelijaliikkuvuusmaita.
Tutkimuksen vertailevana lähestymistapana käytetään kontekstien vertailua, jolla pyritään yleistämisen sijaan ymmärtämään tutkittavia tapauksia. Suomen ja Kiinan korkeakoulujärjestelmät eroavat merkittävästi toisistaan. Suomi on Pohjoismainen hyvinvointivaltio, joka ei kerää lukukausimaksuja opiskelijoiltaan (lukuun ottamatta EU ja ETA maiden ulkopuolelta tulleita opiskelijoita kansainvälisissä ohjelmissa) ja jonka korkeakoulujärjestelmä on pieni ja verrattain eihierarkkinen. Kiina esittäytyy sosialistisena markkinataloutena, jolla on laaja hierarkkinen korkeakoulujärjestelmä ja lukukausimaksut opiskelijoille. Molempien maiden korkeakoulujärjestelmää tuetaan taloudellisesti ja politiikkaa ohjataan erinäisin politiikkainstrumentein.
Tämä väitöskirja koostuu neljästä artikkelista ja yhteenveto-osasta. Tutkimus osoittaa, että korkeakoulujen kansainvälistymispolitiikkaa rakennetaan vahvalle kansalliselle intressille, joka on muuttunut tutkittuna ajanjaksona 1980-luvulta 2010- luvulle. Laajemman yhteiskunnallisen ja taloudellisen avautumisen myötä korkeakoulujen kansainvälistyminen on kehittynyt muistuttamaan korkeakoulujärjestelmän piirteitä. Suomi on osiltaan uudelleen orientoinut kansainvälistymispolitiikkaa, joka ei vastaa kaikkia koulutusjärjestelmään liitettyjä erityispiirteitä.
Suomen tapauksessa kansainvälistymispolitiikkaa on tehty kokonaisvaltaisesti ja melko avoimesti kohdistaen politiikan kaikkiin suomalaisiin yliopistoihin kansallisilla ohjausinstrumenteilla, joita ovat lait, politiikkatavoitteet, rahoitus ja arvioinnit. Kansainvälistä opiskelijarekrytointia perustellaan monilla erilaisilla ja toisiaan tukevilla tekijöillä. Näitä ovat koulutetun työvoiman saaminen, kaupallinen intressi, maineeseen liittyvät tekijät sekä kotikansainvälistyminen. Merkittävä joskin vähitellen politiikkateksteissä tuotettu muutos liittyy lukukausimaksujen käyttöönottoon osalle opiskelijoista. Lukukausimaksujen käyttöönottoa vain osalle opiskelijoista voidaan pitää opiskelijaryhmiä erottelevana tekijänä. Suomalaisissa politiikkateksteissä kansainvälisten opiskelijoiden rekrytoinnissa muutosta tukevat retoriset valinnat ovat siirtyneet kriisin painottamisesta mahdollisuuksien korostamiseen. Tutkimuksessa tunnistettiin lisäksi kolme ajanjaksoa, jolloin kehitettiin opiskelijarekrytointia tukevia kansainvälisiä ohjelmia: 1) kansainvälisten ohjelmien perustaminen (1980-luvun lopulta 1990-luvun lopulle), 2) rakenteellinen uudistus ja lakiperusteinen ohjaus ja 3) kohti kaupallistumista ja yksityistämistä. Näissä vaiheissa rakentuu muutos kansainvälisten ohjelmien perustamisesta kaupallistumiseen, jota on tarkasteltu sen historiallisessa kontekstissa.
Kiinassa kansainvälinen politiikkaympäristö on sensitiivisempi eikä kovin avoin globaalille yleisölle. Kansalliset perustelut kansainvälisten opiskelijoiden rekrytoinnille kytkeytyvät pehmeään vallankäyttöön ja maailmanluokan yliopistojen rakentamiseen. Näitä tuetaan muiden muassa laajalla stipendijärjestelmällä.