Evolutionary genomics of adaptation in Atlantic salmon from northern Europe
Zueva, Ksenia J. (2021-01-21)
---
Evolutionary genomics of adaptation in Atlantic salmon from northern Europe
(21.01.2021)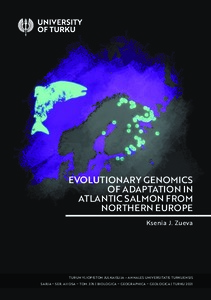 Turun yliopisto
Julkaisun pysyvä osoite on:
https://urn.fi/URN:ISBN:978-951-29-8328-5
Tiivistelmä
Insight into genomic mechanisms of phenotypic variation and adaptation is essential for understanding evolutionary and population dynamics in wild populations. Knowledge about whether it is the same genetic architecture that underlies adaptation over different geographical scales and regions, and what role population history plays, is paramount for the consequent development of efficient conservation practices for the species.

Salmonid fishes are commonly characterised by a wide geographic range, distinct population structure, and high incidence of local adaptation, which makes them a great target for studies exploring both the genomic basis of adaptation and the comparative significance of loci involved in adaptation within and between species. The Atlantic salmon (Salmo salar) populations of northern Europe are particularly interesting: they include the least disturbed populations left in the wild, belong to several distinct phylogeographic lineages, and exhibit astonishing natural variation in response to a salmon ectoparasite, Gyrodactylus salaris, ranging from near resistance in the landlocked and Baltic salmon to high susceptibility with devastating effect in Atlantic Ocean salmon.

In this study, I used genome-wide approaches to further characterize the population structure and phylogeographic history of northern European Atlantic salmon (Chapters I-III). I explored the mechanisms behind the observed variation in the levels of susceptibility to G. salaris, by searching for genes playing a key role in the response to the parasite (Chapters I and II). Subsequently, I broadened my work to search for genomic regions involved in local adaptation in general. I examined whether the identified selection targets were similar over a broad geographic range and independent studies, and thus whether there are patterns of adaptive divergence that could be universal across Atlantic salmon populations (Chapter III). To achieve this, I used a large collection of Atlantic salmon samples and applied two SNP arrays of varying density to individual and pooled-per-population DNA samples. I looked for genomic signatures of directional selection in response to specific selective pressures, including G. salaris presence (Chapters I and II). I also looked for loci that may underly local adaptation in general by examining signatures of divergent directional selection among three geographically and genetically distinct sets of populations (Chapter III). To overcome the challenge of correlated environmental traits and the confounding effects of neutral evolution I used a careful methodological strategy, taking into account the phylogeographic relationships of populations and considering only repeated lines of evidence over multiple analyses.

Several genomic regions, genes, and single SNP outliers were identified in relation to the observed variation in susceptibility to G. salaris, and to other potential selective pressures. Analyses of gene functions and comparison to other research suggest that the detected loci under G. salaris-mediated selection are participating in control of both innate and acquired immune systems. As there were few genes involved uniquely in immunity among the parasite-related candidates, my results highlight that the immune response in Atlantic salmon may be mediated by a large number of multi-functional loci (Chapters I and II). When examining for locally adaptive candidates in general, seventeen haploblocks were repeatedly found as candidates for divergent selection within different population groups. Several of these genomic regions contained loci known to be of large effect and to be associated with life-history traits and, interestingly, immunity (Chapter III).

Overall, this thesis provides evidence that diversification in Atlantic salmon is driven both by multiple loci acting in specific population groups, and by few largeeffect loci acting over a wide geographic range. Exploring the effect of these loci on salmon fitness would help to validate the importance of identified genes and help to assess the long-term viability of northern European salmon.