A Scenario for the Desirable Future of the Colombian Agri-Food Sector 2030 – Focusing on Andean Native Crops : Results from the 1st and 2nd futures workshops of the PECOLO project in Colombia
---
A Scenario for the Desirable Future of the Colombian Agri-Food Sector 2030 – Focusing on Andean Native Crops : Results from the 1st and 2nd futures workshops of the PECOLO project in Colombia
Toimittajat
Lakkala, Hanna
Ochoa, Kenneth
Ferreira-Aulu, Marianna Birmoser
Kaskinen, Juha
Quintero, Carlos
Rodríguez, María Eugenia
Trujillo, Omar
Nensthiel, Clara
Vähäkari, Noora
(07.01.2021)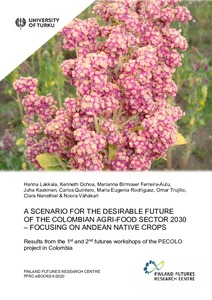 Turun yliopisto. Turun kauppakorkeakoulu
Julkaisun pysyvä osoite on:
https://urn.fi/URN:ISBN:978-952-249-553-2
Tiivistelmä
The PECOLO project (Native Crops for Sustainable and Innovative Food Futures in Peru and Colombia) was developed as a collaboration between the University of Turku, Finland (UTU), the National Agrarian University La Molina, Peru (UNALM) and the University El Bosque, Colombia (UEB). The objective of the project is for higher education, research and innovation environments to support the establishment and maintenance of sustainable, innovative and profitable value chains for Andean native food plant crops.

As part of its strategy, the project focused on transferring tools and methods of future studies and foresight. A series of futures workshops were conducted during the project. With the help of these tools and methods, and through the participation of different interest groups, a set of alternative future states for the Colombian agri-food sector was developed and presented (publication one). Based on the desirable scenario presented in the first publication, a road map and action plan were then developed by the interest groups.

This publication presents the results of the first two workshops of the project. It presents the characteristics of the agricultural sector in Colombia and the national geographical framework, as well as the results of the latest agricultural census. It also highlights the main actors in the agri-food sector at the national level and presents the value chain structure and organization of the sector. The second chapter of the publication is the reference framework, where futures studies and foresight are taken as a theoretical foundation. It lays the groundwork of a theoretical and methodological approach before closing with an examination of the relationship between future studies and innovation environments. The third chapter describes the methods and tools of the futures process and explains in detail how the horizon scanning and scenario workshops were run. The fourth chapter presents the results of each workshop. Finally, the publication closes with a final chapter in which the results obtained up to that point in the first two workshops are discussed.