Immunoregulatory roles of CD73 in lymphatic endothelial and myeloid cells
Eichin, Dominik (2021-01-29)
---
Immunoregulatory roles of CD73 in lymphatic endothelial and myeloid cells
(29.01.2021)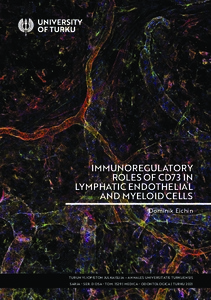 Turun yliopisto
Julkaisun pysyvä osoite on:
https://urn.fi/URN:ISBN:978-951-29-8323-0
Tiivistelmä
The immune system is a fascinating product of the interaction and cooperation of amultitude of cells and tissues. It is thereby able to distinguish between "friend" and "foe" and protect the host from a great variety of pathogens. To do so, the activity of the immune system is finely tuned by various cytokines, chemokines and other molecules. One such regulatory molecule is CD73. This ectonucleotidase has been found on different immunologically important cells and tissues, where it acts as a signaling, adhesion and immune-modulating molecule. However, its expression, importance or functions have only been investigated on some parts of the immune system.
This study was undertaken to determine the role of CD73 in different macrophage populations as well as in the lymphatic endothelium. In particular, we wanted to decipher if CD73 is important for the function of differently polarized macrophages and investigate if its expression correlates to their polarization status. In addition, we studied if macrophage-polarization was dependent on CD73. Furthermore, the modulation of endothelial CD73, its function and the potential impact that clinical anti-CD73 antibodies could have on the blood and lymphatic endothelium were studied.
Our results show that CD73 expression differs between differently polarized macrophages, but that its expression is dispensable for their polarization. Furthermore, we could demonstrate that the expression of CD73 on afferent lymphatic endothelium contributes to immune-modulating effects and its absence results in a more pro-inflammatory phenotype of both the endothelial cells as well as other immune cells that interact with them. As this effect was mainly visible when genetic modulations of CD73 were used and only marginal with CD73- targeting antibodies, there is likely only minor concern to use such antibodies in a clinical setting.
The outcome of this study therefore shows, that although CD73 has mainly anti-inflammatory properties, its importance and specific role varies between different cell-types and tissues and therefore has to be carefully evaluated.
Immunoregulatorische Funktionen von CD73 in lymphatischen Endothelzellen und myeloiden Zellen
Das Immunsystem ist das faszinierende Resultat der erfolgreichen Zusammenarbeit einer Vielzahl von Zellen und Geweben. Es ist dabei in der Lage, zwischen "Freund" und "Feind" zu unterscheiden und kann dadurch den Organismus vor zahllosen Pathogenen beschützen. Um dies zu bewerkstelligen wird die Aktivität des Immunsystems durch Zytokine, Chemokine sowie diverse andere Moleküle genaustens reguliert. Ein derartiges Molekül ist CD73. Diese Ektonukelotidase erfüllt verschiedene Aufgaben in der Signalverarbeitung, Adhäsion sowie der Modulation des Immunsystems. Obwohl es auf verschiedenen immunologisch bedeutsamen Zellen und Geweben nachgewiesen werden konnte, ist seine Funktion nur in einigen Bereichen des Immunsystems bekannt.
Um dieses Wissen zu vergrössern wurde daher diese Doktorarbeit durchgeführt. Dabei wurde die Bedeutung von CD73 für verschiedene Makrophagen sowie für lymphatische Endothelzellen untersucht. Im Speziellen wurde dabei untersucht, ob die Expression von CD73 von der Polarisierung der Makrophagen abhängt und ob deren Funktion sowie Polarisierung dadurch beeinflusst wird. Des Weiteren wurde die Modulierung von CD73 auf Endothelzellen sowie seine dortige Funktion untersucht. Dies wurde insbesonders mit Blick auf die therapeutische Anwendung von anti-CD73 Antikörpern und deren Auswirkung auf das Lymph- sowie das Blutendothel durchgeführt.
Die vorliegenden Ergebnisse unserer Studien konnten dabei zeigen, dass sich die Expression von CD73 je nach Polarisierungsstatus der Makrophagen unterscheidet, diese Expression aber die Polarisierung der Zellen nicht beeinflusst. Ausserdem konnten wir nachweisen, dass CD73 auf Endothelzellen immunregulatorische Funktionen erfüllt und dass seine Abwesenheit zu einem proinflammatorischen Phänotyp von Endothelzellen sowie von anderen Immunzellen führt. Dieser Effekt konnte hauptsächlich durch genetische Interventionen und nicht durch die Anwendung von CD73-spezifischen Antikörpern hervorgerufen werden, was schlussfolgern lässt dass eine klinische Anwendung solcher Antikörper vorraussichtlich relativ ungefährlich sein dürfte.
Die Ergebnisse dieser Studien verdeutlichen daher, dass obwohl CD73 primär anti-inflammatorische Funktionen erfüllt, seine Bedeutung sich je nach Zell- und Gewebstyp unterscheidet und daher gewissenhaft evaluiert werden muss.