Evaluation of 68Ga-labeled PET radiopharmaceuticals for imaging of αvβ3 integrin and vascular adhesion protein-1 in inflammation and cancer
Viitanen, Riikka (2021-02-19)
---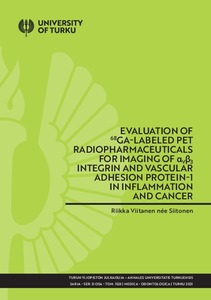 Turun yliopisto
19.02.2021
Julkaisun pysyvä osoite on:
http://urn.fi/URN:ISBN:978-951-29-8360-5
Tiivistelmä
Inflammation is involved in the pathogenesis of several chronic diseases as well as in the development of cancer. Vascular adhesion protein-1 (VAP-1) is an inflammation inducible endothelial adhesion molecule that participates in the leukocyte extravasation from blood to sites of inflammation. Under normal conditions, VAP-1 is absent on the surface of endothelium but, upon inflammation, is rapidly translocated from intracellular storage granules to the endothelial cell surface. Sialic acid-binding immunoglobulin-like lectin 9 (Siglec-9) is a leukocyte ligand of VAP-1 and the [68Ga]Ga-DOTA-Siglec-9 is a promising positron emission tomography (PET) radiopharmaceutical for the imaging of inflammation. Another adhesion molecule, αvβ3 integrin, is overexpressed in angiogenic endothelial cells, and is therefore considered a target for the imaging of angiogenesis in tumors and inflammatory diseases.

The aim of the studies included in this thesis was 1) to evaluate the feasibility of [68Ga]Ga-DOTA-Siglec-9 for the imaging of inflammation in mouse models of arthritis and melanoma, and 2) to explore its safety, whole-body distribution, and radiation dosimetry in healthy subjects as well as its ability to detect arthritis in a patient with rheumatoid arthritis. In mouse melanoma studies, in addition to VAP-1, αvβ3 integrin activation was studied using [68Ga]Ga-DOTA-E[c(RGDfK)]2. The in vivo PET imaging, ex vivo gamma counting, tissue autoradiography, and histological and immunohistochemical stainings were utilized in these studies. Dynamic PET/computed tomography (CT) imaging with concurrent blood sampling clarified the whole-body distribution kinetics, targeting, and radiation exposure of [68Ga]Ga-DOTA-Siglec-9 in humans.

The results showed that [68Ga]Ga-DOTA-Siglec-9 clearly detected inflammation in the mouse arthritis and melanoma models, and longitudinal PET/CT allowed the monitoring of disease development over time. In mouse melanoma, [68Ga]Ga- DOTA-E[c(RGDfK)]2 detected changes of αvβ3 integrin expression and activity. In humans, the [68Ga]Ga-DOTA-Siglec-9 was safe and well-tolerated, and capable of detecting arthritic joints. In conclusion, these preclinical and clinical studies indicate that [68Ga]Ga-DOTA-Siglec-9 is a promising new PET radiopharmaceutical for imaging inflammation. In the future, [68Ga]Ga-DOTA-Siglec-9 PET may have potential for imaging various inflammatory diseases besides rheumatoid arthritis.