Recognition of single- and double-stranded nucleic acids by covalently mercurated oligonucleotides
Ukale, Dattatraya Uttam (2021-03-02)
---
Recognition of single- and double-stranded nucleic acids by covalently mercurated oligonucleotides
(02.03.2021)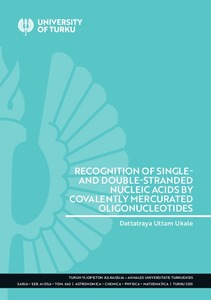 Turun yliopisto
Julkaisun pysyvä osoite on:
https://urn.fi/URN:ISBN:978-951-29-8366-7
Tiivistelmä
Metal-mediated base pairs have attracted considerable attention during the past decades for their potential in bio- and nanotechnological applications. The introduction of metal ions into DNA or RNA not only stabilizes various secondary structures but also confers new, metal-based functionalities. In this context, interactions of Hg(II) with nucleic acids containing artificial as well as natural nucleobases have been studied extensively. These studies have yielded promising results but also revealed notable shortcomings, such as off-target metalation and low stability in metal-deficient media. The covalently mercurated oligonucleotides presented in this thesis provide a new alternatives approach for Hg(II)-metal mediated base pairing, aiming to overcome these limitations.

In the present study, covalently mercurated natural and artificial nucleosides and corresponding oligonucleotides were synthesized. The binding affinity of mono- and dimercurated nucleosides with natural nucleotides was investigated at the monomer level by NMR studies. At oligomer level, the base-pairing properties of covalently mercurated nucleobases were investigated by measuring UV-melting temperatures of various duplexes and triplexes. Furthermore, the binding mode of a monofacial dimercurated nucleobase was also predicted theoretically by DFT calculations. The results obtained on monomers and oligomers generally agreed well, with the duplexes and triplexes containing the most stable base Hg(II)-mediated base pairs also exhibiting the highest melting temperatures. In some cases, the mercurated duplexes and triplexes were considerably more stable than their counterparts comprising only canonical base pairs.