Empirical modelling of solar energetic particles
Raukunen, Osku (2021-06-28)
---
Empirical modelling of solar energetic particles
(28.06.2021)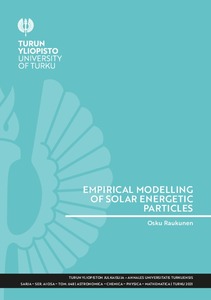 Turun yliopisto
Julkaisun pysyvä osoite on:
https://urn.fi/URN:ISBN:978-951-29-8491-6
Tiivistelmä
Solar energetic particles (SEPs) are an important component of space weather. They pose a serious radiation hazard to electronic equipment and biological organisms in space. They are produced in explosive events such as solar flares and coronal mass ejections, where particles can be accelerated up to several orders of magnitude above their thermal energy. During large SEP events, observed particle fluxes may increase by many orders of magnitude in timescales of minutes, and the increases may last several days. The occurrence of SEP events is approximately correlated with the overall activity of the Sun. The solar activity follows a nearly periodic cycle with the average period of approximately 11 years, and the amplitude of the cycle is modulated by longer variations. During the most recent solar cycle, activity has stayed at a very low level compared to previous cycles. The low activity has been interpreted as a result of long-term variability, and it is expected to continue at least for the recently started cycle 25.

This thesis presents research into two closely related topics, the first of which is the comparison of the properties of SEPs during the two recent solar cycles, namely cycles 23 and 24. We studied the heavy ion intensities and abundances, and found that the mean abundances of heavy ions were lower during cycle 24, and the overall number of SEP events with heavy ion enhancements was lower. These results reflect the reduced efficiency of SEP acceleration processes. We used shock acceleration theory and simulation results to show that the reduced efficiency can be explained by reduced average densities of coronal plasma and suprathermal seed particles.

Designers of space missions require accurate knowledge about the radiation environment their equipment or astronauts will be exposed to. As the processes behind SEPs are extremely complex, long-term forecasting is not possible according to current knowledge. Therefore, statistical models of previous SEPs events are the only option in estimating the particle radiation environment. The second topic of this thesis is the development of such models, with special emphasis on the high energy part of the SEP spectrum. We developed models for solar high energy proton fluences and peak fluxes. The models were based on space-borne and ground-based measurements over several solar cycles, and they provide improved estimations of the high energy radiation environment.