Coolest student papers at Finland Futures Research Centre 2020–2021: Tulevaisuuden tutkimuskeskuksen valittuja opiskelijatöitä 2020–2021
Aalto, Hanna-Kaisa; Ahlqvist, Toni; Ahvenharju, Sanna; Heikkilä, Katriina; Kaboli, Akhgar; Kiviluoto, Katariina; Marjamaa, Maili; Minkkinen, Matti; Puustinen, Sari; Pöllänen, Markus; Ruotsalainen, Juho; Siivonen, Katriina; Tapio, Petri; Arvonen, Anne (2021-10-04)
---
Coolest student papers at Finland Futures Research Centre 2020–2021: Tulevaisuuden tutkimuskeskuksen valittuja opiskelijatöitä 2020–2021
Aalto, Hanna-Kaisa
Ahlqvist, Toni
Ahvenharju, Sanna
Heikkilä, Katriina
Kaboli, Akhgar
Kiviluoto, Katariina
Marjamaa, Maili
Minkkinen, Matti
Puustinen, Sari
Pöllänen, Markus
Ruotsalainen, Juho
Siivonen, Katriina
Tapio, Petri
Arvonen, Anne
(04.10.2021)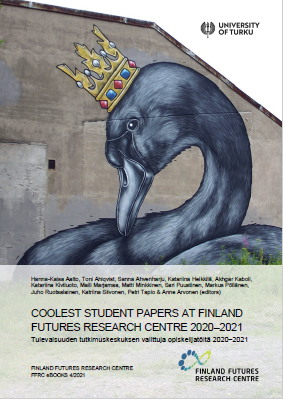 Turun yliopisto. Turun kauppakorkeakoulu
Julkaisun pysyvä osoite on:
https://urn.fi/URN:ISBN:978-952-249-561-7
Tiivistelmä
You are reading our already sixth annual publication of the Coolest Student Papers. With this publication, we at the Finland Futures Research Centre (FFRC) want to create a channel for making visible the hard work, academic talent and creativity featured in our courses. This issue covers courses from the international Master's Degree Programme in Futures Studies (FUTU), courses organised by Finland Futures Academy (FFA) (taught in Finnish), and the interdisciplinary team work course of Sustainable Development Studies (KEKO) (taught both in Finnish and in English). All study programs are coordinated by the FFRC. Each course forms its own section with a description of intended learning outcomes, an introduction by the teacher(s), followed by the papers.

This year's papers are unique not only because of their interesting ways of exploring and peeking into futures but also because they all have been written during the global pandemic. It makes you appreciate these papers even more, when you realize the lack of luxury of face-to-face peer commenting.

The futures community in Finland is quite widespread and we know that both our current students and our alumni are always looking forward getting a hold of this publication. But only when we learned that we have readers around the world we have realized that there is a special need for this kind of a publication. Academic approach does not have to be boring and full of rules. We hope that you enjoy the perceptional knowledge and the kaleidoscopic view these papers offer in futures studies. We would also appreciate any feedback you want to give! You can send your feedback via tutu-info@utu.fi.