An Access theory of self-control: Essays on self-control, ADHD, and stimulant medication
Koi, Polaris (2021-11-19)
---
An Access theory of self-control: Essays on self-control, ADHD, and stimulant medication
(19.11.2021)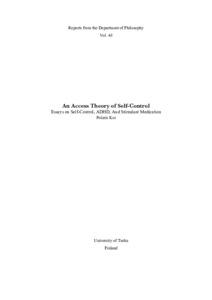 Turun yliopisto
Julkaisun pysyvä osoite on:
https://urn.fi/URN:ISBN:978-951-29-8674-3
Tiivistelmä
This dissertation consists of four articles and an introductory essay, the overarching aim of which is to investigate the nature of self-control and its implications.

I defend a value-deflationist definition of self-control, according to which self-control is that which is enacted to align one's behaviour with intention in the face of competing motivation. This radical revision of the concept of self-control, which under its received denotation is associated with motivational hierarchies under various guises, allows for a conception of self-control that is consistent even in the absence of clear value hierarchies.

For my account, self-control is defined by its behavioural function, not by its reliance on any specific cognitive or neural process. As a result, self-control can be realized by a large range of functionally equivalent processes. Some such processes are intrapsychic, such as inhibition, rehearsal of reasons, and construal. Others are situational, such as environmental selection and modification as well as social processes of self-control.

Not all self-control processes are equally available for all agents, however. Some processes that are heavily reliant on executive functioning, such as inhibition and rehearsal of reasons, are unavailable for agents with executive dysfunction. For other self-control processes, social and economic constraints delimit their availability. It then becomes of utmost importance that agents are aware of such means of self-control that are a good fit for the agent and her situation.

In this dissertation I analyse individual differences in self-control in terms of differences in access to self-control behaviours, articulating criteria for access to self-control and demonstrating how epistemic and practical constraints contingently modulate access to self-control in a manner that results in aggravated individual differences in self-control.

I also discuss various implications of the access theory of self-control. implications span assessments of responsibility for failures of self-control; accounting for individual differences in self-control, including when these differences are connected to diagnoses such as Attention Deficit /Hyperactivity Disorder; and the prospects of self-control neuroenhancement.