Fluorescent and 19F NMR probes for metal-mediated base pairing
Aro-Heinilä, Asmo (2022-03-04)
---
Fluorescent and 19F NMR probes for metal-mediated base pairing
(04.03.2022)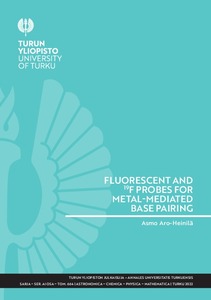 Turun yliopisto
Julkaisun pysyvä osoite on:
https://urn.fi/URN:ISBN:978-951-29-8784-9
Tiivistelmä
Research on metal-mediated base pairing has proceeded rapidly during the last decades, and metal-mediated base pairs have become one noteworthy option for developing new DNA-based biological or nanotechnological applications. Many metal ions can bind between specific mismatches and increase thermal stability of the secondary structures of nucleic acids. Metal-mediated base pairs between canonical or artificial nucleobases have been studied extensively. Often, UV or CD spectroscopy techniques have been used to study the global effects of metalmediated base pairs on secondary structures. More detailed information on the local environment of metal-mediated base pairs can be achieved by 15N NMR or crystallization of metallated oligonucleotides. However, the need for expensive 15Nlabeled nucleotides and complex production of the crystals of metallated oligonucleotides are drawbacks of these methods. Instead, fluorescent or 19F-labeled nucleobase analogs would offer an easier way to examine local interactions of metalmediated base pairs in oligonucleotides.

In the present work, fluorescent and 19F NMR probes were developed. Fluorescent probes were used for screening potential molecules for metal-mediated base pairing and detection of single nucleotide polymorphism. 19F NMR probes were developed to evaluate the local environment of metal-mediated base pairs. Fluorinelabeled nucleobase analogs were synthesized, incorporated into the oligonucleotide and mercurated. Hybridization of the mercurated oligonucleotides were evaluated by 19F NMR spectroscopy and UV melting temperature analysis. Results showed increased stability of the duplexes with different opposite nucleobases, and 19Flabeled analog allowed discrimination of nucleobases by UV and 19F NMR. One 19Flabeled nucleotide was incorporated into fluorescent molecular beacon system for the detection of single nucleotide polymorphism.