Reality guides for life before death
Suovuo, Tomi "BGT" (2022-06-22)
---
Reality guides for life before death
(22.06.2022)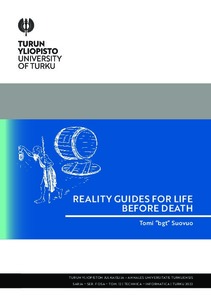 Turun yliopisto
Julkaisun pysyvä osoite on:
https://urn.fi/URN:ISBN:978-951-29-8910-2
Tiivistelmä
The rise of the digital game industry has brought along a plethora of game design tools and frameworks. They are likely to be named specifically as design frameworks for games because their creators have been positioned themselves on the field of game research due to their personal interest in games or due to the fast rising game business. There appears often not to be a reason why these tools and frameworks could not be used in any other kind of interaction design too.

Furthermore, even the definition of a game is elusive. In effort to be able to consider what is a game and what is not, the concept of Reality Guides was developed. A Reality Guide guides the user in their surrounding reality. By its definition it is not necessarily a game, and a game by its definition is not necessarily a Reality Guide, but it is possible for something to be both. Reality Guides can come in the form of paper booklets, human guides, digital applications, or something else. The focus in this thesis is in guides that are mixed reality digital applications.

Looking at Reality Guides through several game design frameworks, a new theoretical model was constructed: The GEM Game Experience Model is a result of Grounded Theory based work to find a single underlaying model behind all the existing ones.

Two non-game initiatives have been worked on with the guidance of Reality Guide thinking and GEM thinking: Life Before Death aims at producing services that will help people with premature end of life circumstances to make the best possible out of their remaining life. Reality Guides for the end-of-life. Also, in the initiative of creating a community around Digital Theology a project course was organized using gamer community originated Discord as a central Reality Guide for the course participated by students from four continents.