Cuban energy system development – Technological challenges and possibilities
---
Cuban energy system development – Technological challenges and possibilities
Toimittajat
Luukkanen, Jyrki
Saunders Vázquez, Anaely
Santos Fuentefría, Ariel
Majanne, Yrjö
Filgueiras Sainz de Rozas, Miriam Lourdes
Laitinen, Jasmin
(20.06.2022)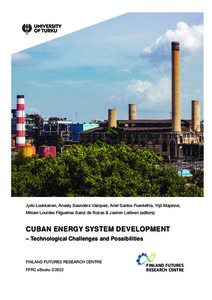 Turun yliopisto. Turun kauppakorkeakoulu
Julkaisun pysyvä osoite on:
https://urn.fi/URN:ISBN:978-952-249-568-6
Tiivistelmä
This eBook is a unique scientific journey to the changing frontiers of energy transition in Cuba focusing on technological challenges of the Cuban energy transition. The focus of this milestone publication is on technological aspects of energy transition in Cuba. Green energy transition with renewable energy sources requires the ability to identify opportunities across industries and services and apply the right technologies and tools to achieve more sustainable energy production systems. The eBook is covering a large diversity of Caribbean country´s experiences of new green technological solutions and applications. It includes various technology assessments of energy systems and technological foresight analyses with a special focus on Cuba.