Landscapes of our uncertain futures: Towards mapping and understanding crisis-related concepts and definitions
---
Landscapes of our uncertain futures: Towards mapping and understanding crisis-related concepts and definitions
Toimittajat
Heinonen, Sirkka
Karjalainen Joni
Taylor, Amos
(01.07.2022)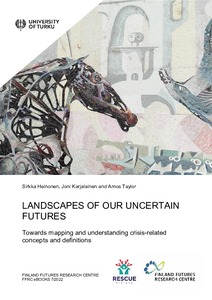 Turun yliopisto. Turun kauppakorkeakoulu
Julkaisun pysyvä osoite on:
https://urn.fi/URN:ISBN:978-952-249-577-8
Tiivistelmä
This report "Landscapes of Our Uncertain Futures. Towards mapping and understanding crisis-related concepts and definitions" is published as a result of a literature review and related conceptual analysis conducted within the RESCUE Project (Real Estate in Sustainable Crisis Management in Urban Environments). In early stages of the project it became evident that in order to achieve efficient results in research and policy action efforts for sustainable urban development and crisis management, mutual understanding of key concepts and their definitions is needed. This is because identifying and grasping the major phenomena at play in our turbulent world – crisis society – may be varied, and besides there are several different definitions of them used in the literature. If, however, preliminary discussions and analyses can open up the contents and meanings of such phenomena, joint work and concluding recommendations are supported and expedited on the basis of shared understanding. A key theme in this conceptual analysis is 'crisis' and crisis-related phenomena, within the framework of the now present VUCA world. The landscapes of our uncertain futures are thus depicted, and replenished via a literature review and its key findings. These insights are meant to help paving the way for the process of creating resilient cities.