Properties of highly magnetized neutron stars from X-ray timing analysis on different time scales
Mönkkönen, Juhani (2022-10-26)
---
Properties of highly magnetized neutron stars from X-ray timing analysis on different time scales
(26.10.2022)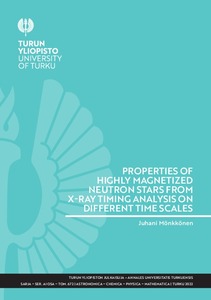 Turun yliopisto
Julkaisun pysyvä osoite on:
https://urn.fi/URN:ISBN:978-951-29-8982-9
Tiivistelmä
Massive stars end their lives either by collapsing directly into a black hole or by exploding as a supernova, leaving behind their collapsed core, a black hole or a neutron star (NS). NSs are a showcase of extremities: their density competes with that of the atomic nucleus and their magnetic fields are the strongest in the universe. As such, they present a unique opportunity for studying the fundamental forces of nature.

When the NS inhabits a binary system, it may accrete matter from its companion star, and accretion is a highly effective way of transforming potential energy into radiation. This means that NSs reveal themselves to us through various interactions of matter and radiation, appearing as X-ray sources to our satellites. How the X-rays vary in time and photon energy carries information of the physical processes in the NS system.

Of these processes, the interaction of accreted matter with the NS's extremely strong magnetic field is the theme of this thesis. First, matter slowly spirals in the accretion disc, until it is forced to follow the magnetic field lines in the vicinity of the NS and onto the NS's magnetic poles. Such a dramatic transformation of an accretion flow does not remain without consequences, but rather, writes itself into the details of mass density fluctuations which modulate the observed flux. Therefore, this thesis turns to timing analysis, offering a view to the different time scales of accretion: from low frequencies mapping the slow outer accretion disc to the high frequencies revealing what happens when the accretion disc encounters the magnetosphere of the NS. The standard assumptions of magnetic field structure are relaxed in light of the results.