Disturbances of glucose metabolism, cognitive decline, and neuroimaging changes related to Alzheimer's disease
Toppala, Sini (2022-10-14)
---
Disturbances of glucose metabolism, cognitive decline, and neuroimaging changes related to Alzheimer's disease
(14.10.2022)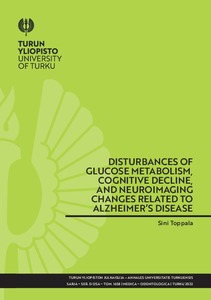 Turun yliopisto
Julkaisun pysyvä osoite on:
https://urn.fi/URN:ISBN:978-951-29-8970-6
Tiivistelmä
Insulin resistance is a common abnormal metabolic state related to obesity and many other health problems where target organs cannot respond normally to insulin. Insulin resistance and the dysfunction of the pancreatic insulin-secreting β-cells are the basic features of type 2 diabetes and its preceding stages, i.e. prediabetes. Diabetes is a risk factor for cognitive decline and progressive memory disorders, of which Alzheimer's disease (AD) is the most common. Presumably, the risk for cognitive decline begins increasing at the prediabetic stages.

This thesis aimed to clarify the associations between midlife insulin resistance, late-life cognitive performance, and neuroimaging changes related to AD among individuals with and without insulin resistance in midlife. Vascular changes were assessed with magnetic resonance imaging (MRI), and neuroinflammation and beta-amyloid (A) deposition, which is an early marker of AD pathology, with positron emission tomography (PET) (n=60). This thesis also evaluated if measures from an oral glucose tolerance test (OGTT) can predict cognitive decline in the Finnish nationwide Health 2000 survey and its follow-up, the Health 2011 study (n=961).

Midlife insulin resistance was associated with poorer executive functions and slower processing speed but not with brain vascular changes after 15 years. A deposits, but not vascular lesions, were related to slower processing speed. A was associated with neuroinflammation among those with only small amounts of A accumulation. Insulin resistance, low-grade systemic inflammation, and a higher body mass index (BMI) were associated with higher levels of neuroinflammation in brain regions where A is first detected in AD. Higher 2-hour glucose (reflecting impaired glucose tolerance) and a decreased early insulin response (an indicator of β-cell function) in an OGTT predicted poorer performance and greater decline in a test of episodic memory after ten years.

These results indicate that midlife insulin resistance, impaired glucose tolerance, and decreased early insulin secretion – all related to prediabetic stages – are risk factors for cognitive decline. These results also suggest that early amyloid accumulation is associated with neuroinflammation.