Observational studies of accreting X-ray pulsars in a broad energy range
Nabizadeh, Armin (2022-11-04)
---
Observational studies of accreting X-ray pulsars in a broad energy range
(04.11.2022)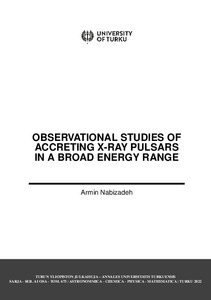 Turun yliopisto
Julkaisun pysyvä osoite on:
https://urn.fi/URN:ISBN:978-951-29-9022-1
Tiivistelmä
Among all interesting astrophysical objects in the universe, only a few are capable of improving our understanding of physics under extreme conditions. Accreting neutronstars are one of these objects. These compact objects are the collapsed remnants of massive stars which have undergone a supernova explosion in the final stage of their evolution. Some neutron stars are found in binary systems in which they are gravitationally bound to a normal main sequence star. Consequently, a flow of matter from the companion star can be accreted onto the surface of the neutron star. As a result, a substantial fraction of the gravitational energy of infalling matter is converted into a large amount of radiation, mostly in the form of X-rays. These rotating compact objects that emit pulsed beams of radiation along the line of sight of the observer are called X-ray Pulsars.

This thesis is devoted to the observational study of the X-ray emission emerging from the accretion-powered X-ray pulsars. Particularly, four accreting X-ray pulsars, Swift J1816.7−1613, GX 301−2, 4U 1901+03, and 2S 1845−024, observed at various activity levels, i.e. outburst or quiescence, have been studied. The X-ray observations provided by multiple cosmic telescopes such as NuSTAR, XMM-Newton, Chandra, Swift, Insight-HXMT, and Fermi were used. Through X-ray spectral and temporal analyses, I have been able to investigate the emitting regions in more detail and obtain the most important physical properties of the sources such as the magnetic field strength.

The observational results I obtained in the light of this thesis have improved our understanding of the selected X-ray pulsars in high- and low-states. In particular, I demonstrate that even during the strong spin-up episode detected in the windaccreting X-ray pulsar GX 301−2 the source is still powered by direct accretion from the wind and it is not completely switching to the disk-fed regime as expected. I have also obtained evidence that even in high-luminosity sources, e.g. 4U 1901+03, the observed absorption-like feature around 10 keV may not be attributed to cyclotron lines, but can be an artifact of the two-component spectrum. Moreover, I was able to estimate the magnetic field strength, distance and the type of the optical companions in poorly studied X-ray pulsars Swift J1816.7−1613 and 2S 1845−024 using both X-ray and IR observations.