Formation morphing and collision avoidance in swarms of robots
Yasin, Jawad Naveed (2022-11-18)
---
Formation morphing and collision avoidance in swarms of robots
(18.11.2022)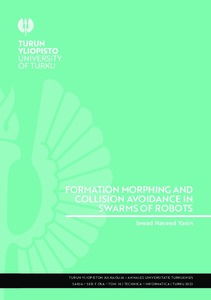 Turun yliopisto
Julkaisun pysyvä osoite on:
https://urn.fi/URN:ISBN:978-951-29-9006-1
Tiivistelmä
Formation maintenance and collision avoidance are two of the key factors in swarm robotics. The demand for autonomous fleets of robots is ever increasing from manufacturing to product deliveries to surveillance to mapping and so on. Moreover, for resource constrained autonomous robots, such as UAVs and UGVs, energy-efficiency is very vital due to their limited batteries. Therefore formation maintenance and collision avoidance developed for such robots need to be energy-efficient. Integration between these two approaches needs to be performed systematically. The experimental analysis of the proposed approaches presented in this thesis target two main branches: 1) action based and 2) perception based energy consumption in a swarm of robots. In the first branch, there are two different paths: i) optimal formation morphing: the main goal is to the optimize the reformation process from the highest level of agitation of the swarm, i.e., maximum disturbance in the formation shape and ii) congestion minimization: the main goal here is to find an optimal solution for distribution of the swarm into sub-swarms to minimize the delays due to over population of the agents while bypassing the obstacles. In the second branch, i.e., perception based energy consumption, the main goal is to increase the mission life on a single charge by injecting the adaptive consciousness into the agents so they can turn off their ranging sensors and navigate while listening to their leader. For formation collision co-awareness, we systematically integrated the methodologies by designing a multi-priority control and utilized the non-rigid mapping scheme of thin-plate splines technique to minimize the deformation caused by obstacle avoidance. For congestion-aware morphing and avoidance maneuvers, we discuss how the delays caused by over population can be minimized with local sense and avoid approach. The leader, upon detection of obstacles, pre-estimates the optimal configuration, i.e., number of agents in the sub-swarms, and divides the swarm as such. We show the efficiency of the proposed approach experimentally.