Memristor devices based on low-bandwidth manganites
Lähteenlahti, Ville (2022-12-12)
---
Memristor devices based on low-bandwidth manganites
(12.12.2022)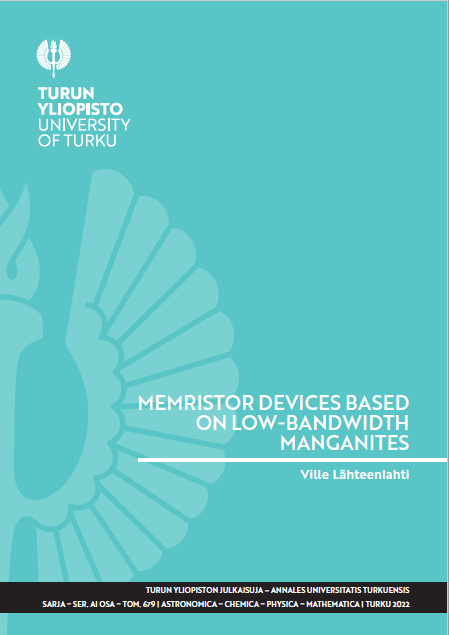 Turun yliopisto
Julkaisun pysyvä osoite on:
https://urn.fi/URN:ISBN:978-951-29-9073-3
Tiivistelmä
This dissertation investigates the phenomenon of resistive switching (RS) in lowbandwidth mixed-valence perovskite manganite oxides. In particular, the compounds Pr0.6Ca0.4MnO3 and Gd1−xCaxMnO3 with x between 0 and 1 are studied. The steps of sample fabrication, crystalline properties and measurements to verify the quality of the devices are also reported. The thin film memristor devices were fabricated from target pellets using pulsed laser deposition on single crystal SrTiO3 substrates. The crystallinity was verified using X-ray diffraction and the elemental composition by energy dispersive X-ray spectroscopy. The fabricated thin films were used to create memristor devices by depositing patterned metal electrodes on them by either DC magnetron sputtering or e-beam physical vapor deposition.

When the studied materials were combined with a reactive electrode material, the formed interface exhibited the phenomenon of resistive switching, where the resistance of the device can be modified non-volatilely by application of electric field to the terminals of the device. The noble metals Au and Ag were found to be optimal for the passive interfaces, and Al as the active interface. The RS properties of the devices made with the optimal electrode configuration were studied in detail. The devices were found to have asymmetric bipolar RS with promising characteristics. The studies encompassed varying the calcium doping of the samples, studying the endurance and timing characteristics of the RS phenomenon as well as measuring the device characteristics as a function of temperature. The RS properties were found to vary significantly over the calcium doping range. When the measurement results were used in a conduction model analysis, the switching properties were found to be correlated with the trap-energy level of the Al/GCMOinterface region. Lastly, the GCMO memristor devices were modeled successfully using a compact model compatible with circuit simulators and the biologicallyinspired spike-timing-dependent plasticity learning rule was demonstrated.

In conclusion, GCMO is a promising new material for RS-based neuromorphic applications due to its stable switching properties. The unexpected differences between GCMO and PCMO show that there are still many unexplored RS properties and behaviors within the manganite family that can be explored in future research.