Hans Christian Andersen and the cultural reception of Richard Wagner in Denmark, 1857–1875
Ljubibratić, Vanja (2022-12-09)
---
Hans Christian Andersen and the cultural reception of Richard Wagner in Denmark, 1857–1875
(09.12.2022)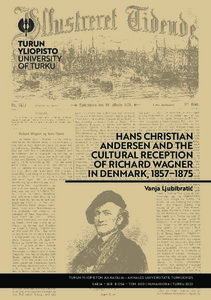 Turun yliopisto
Julkaisun pysyvä osoite on:
https://urn.fi/URN:ISBN:978-951-29-9075-7
Tiivistelmä
Denmark, in roughly the first seven decades of the nineteenth century, was a country of immense geographic, cultural, political, and moral change. The landscape of these powerful shifts informed, among other things, the representation and interpretation of art in Denmark, whether it was produced domestically or imported from abroad. Amidst rapidly shifting notions of national identity in a country that was becoming more insulated from foreign influences, the Danish poet Hans Christian Andersen sought to maintain what he believed was integral for Denmark's future: preserving his country's cultural solidarity with Germany, which he also viewed as the path to a better future for the arts in Denmark.

Andersen travelled widely across Europe, and in his journeys, he frequently associated with prominent musicians and formed long-standing relationships with them. Although Andersen was to gain exposure to the music of German composer Richard Wagner relatively early in both men's careers, it took the poet several more years to cultivate a deep admiration for the composer, which ultimately led to Andersen believing that Wagner was the artist of the future whom Andersen had hoped would bring about the improved social standing of the arts that he himself had always tried to nurture. The crowning achievement of Andersen's devotion to Wagner is expressed in his final novella, Lykke Peer, which is a literary testimony of his support for Wagner and forward-oriented thinking on music, culture, and a universal tolerance of new and progressive ideals that would result in an enhanced cosmopolitanism in Danish society. At the same time, though, the values that Andersen supported faced strong opposition in the form of a growing cultural nationalism that was propagated by the theologian and politician N.F.S. Grundtvig. This movement was in turn fueled by the damaging consequences of Danish-German relations as a result of the two Schleswigian Wars, yet Andersen never faltered in his conviction about an inclusive association between Denmark and Germany.

Within this rich fusion of socio-cultural developments, this study examines Wagner's cultural reception in Denmark from the years 1857–75, primarily through the lens of Andersen, and with overlapping perspectives that deal with art and culture, history, politics, philosophy, nation building, and national identity. My specific aim is to investigate how the cultural reception of Wagner was influenced by Andersen's promotion of the composer in Lykke Peer. The ultimate goal is to investigate Wagner's role in the complex setting of his contemporary Danish society in order to see how Andersen positioned Wagner's music and theories to influence Danish reception and render his countrymen more receptive to Wagner and also to German art in general. The main research questions are: How were Wagner's ideas and music received in Denmark between 1857 and 1875, how were Wagner and Wagnerism connected to the question of Danish nationalism and identity, and how was Andersen involved in these phenomena? Primary research materials of this study, beyond Lykke Peer, include Andersen's diaries, autobiographies, and theoretical texts; Wagner and Grundtvig's theoretical texts; and public, critical reviews of Wagner, written by Danish journalists and commentators. The study's primary methodologies are reception theory and narrative analysis.