Development of radiopharmaceuticals for PET imaging of Inflammation - VAP-1, FR-beta and CLEVER-1 as target molecules
Moisio, Olli (2022-11-25)
---
Development of radiopharmaceuticals for PET imaging of Inflammation - VAP-1, FR-beta and CLEVER-1 as target molecules
(25.11.2022)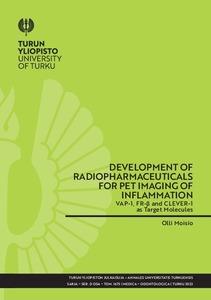 Turun yliopisto
Julkaisun pysyvä osoite on:
https://urn.fi/URN:ISBN:978-951-29-9071-9
Tiivistelmä
Positron emission tomography (PET) is a non-invasive technology widely used in oncology, cardiology, neurology and inflammation imaging. PET can detect the expression of receptors, genes and molecular pathways in both patients and experimental animals. Thus far, the radiopharmaceutical 2-deoxy-2-[18F]fluoro-D-glucose ([18F]FDG) has been employed in the clinic for several indications involving inflammation. While [18F]FDG uptake in regions of inflammation is increased, it is not specific for inflammation, which can lead to difficulty in analysis as well as false positive findings. Therefore, development of alternative, inflammation-specific PET radiotracers is justified.

Our aim is to develop and evaluate new PET radiopharmaceuticals for imaging inflammation-specific targets. We propose these tools may be valuable for both clinical practice and medical research of the inflammatory conditions such as atherosclerosis and rheumatoid arthritis. In this work, three molecules associated with inflammation were selected as targets: vascular adhesion protein-1 (VAP-1), folate receptor β (FR- β) and common lymphatic endothelial and vascular endothelial receptor-1 (CLEVER-1). These receptors are associated with leukocyte recruitment into inflamed tissues as well as activated macrophages at sites of inflammation. Five different radiopharmaceuticals targeting these receptors were evaluated in experimental disease models or in humans.

The results showed that VAP-1-targeting tracers [68Ga]Ga- and [18F]AlF-NOTA-Siglec-9 could visualize sterile skin inflammation in rats. Compared to each other, the tracers showed similar uptake characteristics. Another Siglec-9-derived tracer, [68Ga]Ga-DOTA-Siglec-9 was shown to be safe and well tolerated in healthy volunteers and was able to visualize inflammation in arthritic joints. Further, [68Ga]Ga-NOTA-Folate was successfully used to target FR-β positive macrophages in inflamed atherosclerotic lesion in mice. Finally, [89Zr]Zr-DFO-bexmarilimab showed increased uptake in fibrotic rabbit kidneys expressing CLEVER-1.