Versatile Ultrathin Films of Conducting Polymers by Vapor Phase Polymerization at Atmospheric Pressure: Synthesis, Process Optimization, and Characterization
Yewale, Rahul (2022-12-09)
---
Versatile Ultrathin Films of Conducting Polymers by Vapor Phase Polymerization at Atmospheric Pressure: Synthesis, Process Optimization, and Characterization
(09.12.2022)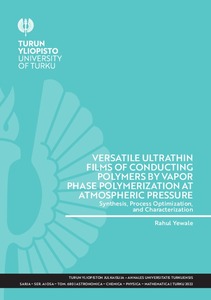 Turun yliopisto
Julkaisun pysyvä osoite on:
https://urn.fi/URN:ISBN:978-951-29-9092-4
Tiivistelmä
The limitations such as toxicity, brittleness, scarcity, and high cost of currently available materials for energy storage and transparent electrode applications in bendable electronics create a need for green, sustainable, and cost-effective alternatives. Organic conducting polymers (CPs) can transport charge across conjugated sp2 carbon network. Their low-tuneable band gap, flexibility, and transparency could make them viable alternatives. However, the challenges such as processability, stability, biocompatibility, and production cost remain milestones to achieve. Therefore, this thesis work is an effort toward a green and sustainable future.

Poly(3, 4-ethylenedioxythiophene) (PEDOT), known for its conductivity, robustness, and biocompatibility and polyazulene (PAz), known for its high capacitance are selected for studies due to their unique abilities. Fabrication of highly electrically conducting ultra-thin films of PEDOT is done by developing and optimizing a cost-efficient vapor phase polymerization method at atmospheric pressure (AP-VPP) and combining a layer-by-layer (L-b-L) synthesis approach. As a result, AP-VPP PEDOT films showed comparative sheet resistance, transmittance, and conductivity with commercially available ITO-coated materials. In contrast, the flexible, green organic nature and high capacitance of PEDOT thin films overcome the competition with ITO-coated materials. Similarly, well-organized high-capacitance PAz films are L-b-L synthesized using an optimized AP-VPP process.

The influence of factors such as substrate surface cleaning, oxidant solution, oxidant spin coating rate and time, cell and substrate temperature, polymerization time, drying and annealing temperature and time, air vs nitrogen atmosphere, and washingsolvents on film properties were studied during the optimization process for both the CPs. Properties like optical bandgap, sheet resistance, surface roughness, conductivity, capacitance, and % transmittance provided a route for process optimization. Furthermore, FTIR, Raman, and UV–Vis spectroscopy were utilized to analyse the extended conjugation along with the type and trend in the charge carriers generated upon doping the resulting films. Microscope imaging, AFM, and SEM were utilized to analyse surface morphologies and microstructures. The capacitance properties, transport of counterions across multiple layers, and charge transport resistance were investigated using cyclic voltammetry and electrochemical impedance spectroscopy. In addition, the characterization techniques complement each other in data interpretation. PEDOT and PAz films produced in the present work and their properties are compared with available reports in the literature.