Bioinformatics of human picornavirus molecular evolution and pathogenesis
Hietanen, Eero (2022-12-16)
---
Bioinformatics of human picornavirus molecular evolution and pathogenesis
(16.12.2022)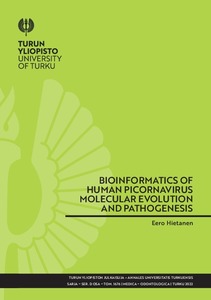 Turun yliopisto
Julkaisun pysyvä osoite on:
https://urn.fi/URN:ISBN:978-951-29-9082-5
Tiivistelmä
Picornaviruses are a family of small, non-enveloped, positive-sense single-stranded RNA viruses. Together they form group of viruses that in humans cause diseases such as poliomyelitis, encephalitis, hand-foot-and-mouth disease, myocarditis, febrile illnesses, gastrointestinal infections, aseptic meningitis, and severe CNS infections. Characteristic to RNA viruses, picornaviruses also exhibit a high mutation rate and frequent recombination, making them a challenging target pathogen for research.

The emphasis of this dissertation was to highlight the importance of approachable bioinformatics in basic picornavirus research. The dissertation was divided into three parts, each of which had a different research theme from the point of picornaviral research. Bioinformatics was applied to the areas of molecular evolution of picornaviruses, their use in virotherapy, picornavirus pathogenesis, and antibody development.

In studies I and IV, Rigvir®, marketed as an effective oncolytic virotherapy drug against melanoma, was compared against clinical echovirus 7 isolates through sequence and structural bioinformatic analyses, as well as through in vitro infection assays. The results showed that Rigvir® did not differ in its ability to infect and lyse cancer or healthy cells when compared to the clinical isolates, casting doubt on its effectiveness as a virotherapy agent. In study II, recombination and receptor binding sites of coxsackievirus A9 were analyzed. The results showed that recombination occurs frequently in the genomes of picornaviruses, and that the sequence of the main receptor binding site remains conserved, while other putative heparan sulfate binding sites can still be found from previously unreported picornavirus types. In studies III and V, monoclonal antibodies and scFv fragments were developed against human parechovirus (HPeV) A1 VP0 protein. The developed antibodies not only recognized a wide range of HPeV-A1 strains but also HPeV genotypes 2–6, with the scFv showing potential in research use. Bioinformatic analyses concluded that the common epitope between different HPeV types is a structurally conformational epitope, with a conserved flanking region.