A study of III-V/HfO2 interfaces and silicon structure optimization
Lahti, Antti (2023-01-27)
---
A study of III-V/HfO2 interfaces and silicon structure optimization
(27.01.2023)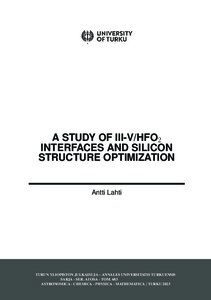 Turun yliopisto
Julkaisun pysyvä osoite on:
https://urn.fi/URN:ISBN:978-951-29-9141-9
Tiivistelmä
Computational materials physics is a field where we try to understand the phenomena related to materials all around us. However we can only model a small sections portion of these materials in our computations, quantum mechanical or classical. In quantum mechanical calculations we are often limited to systems that are sub thousand atoms and classical simulations can reach millions atoms, which is still no where near the ballpark of 1020 atoms that will be present in a gram of any material.

The III-V semiconductors are interesting topic due to their potential in device applications [1; 2]. In this research the main issue we have studied is the interface of III-Vs and HfO2. We have been interested in the structure, electrical properties and characterization of this system. The sub issue of this is a more technical issue that comes with studying these systems: finding the energy minimum structure of any atomic system. We have approached the main issue through quantum mechanical inspection of the system done through the VASP software on different constructed models. The structure optimization was worked on classically with an algorithm built on Genetic Hybrid Algorithm(GHA) and LAMMPS.

For the first issue, we started with the few existing models and studied them. We then created our models with several different crystal forms of HfO2 and created multiple interface models. Then we studied the effects of different configurations and defects in these models. We found out that the dangling bonds were one of causes for the unwanted defect states in many of the models. We also explored the relative stability of the different models we presented by comparing to each others. In the second paper we continue working on these models and creating new models with native oxides involved. However this time the focus is on providing reference values for interpreting the X-ray photoelectron spectroscopy data from the experiments.

The optimization branch is a more exploratory research line about our approach on optimizing the structure with an algorithm built on the GHA-platform. The first silicon bulk research especially is more of a test case for the used GHA platform and its compatibility with the task. With the silicon dioxide research we dwell more into the different ways we can try to aid the algorithm and what are the pitfalls during the optimization.