Local and Regional Scale Determinants of Biodiversity Patterns in Boreal Agricultural Landscapes
Kivinen, Sonja (2007-11-09)
---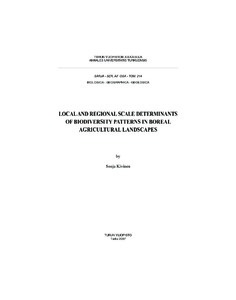 Turun yliopisto Annales Universitatis Turkuensis AII 214
09.11.2007
Julkaisun pysyvä osoite on:
http://urn.fi/URN:ISBN:978-951-29-3398-3
Kuvaus
Siirretty Doriasta
Tiivistelmä
This thesis examines the local and regional scale determinants of biodiversity patterns using existing species and environmental data. The research focuses on agricultural environments that have experienced rapid declines of biodiversity during past decades. Existing digital databases provide vast opportunities for habitat mapping, predictive mapping of species occurrences and richness and understanding the speciesenvironment relationships. The applicability of these databases depends on the required accuracy and quality of the data needed to answer the landscape ecological and biogeographical questions in hand. Patterns of biodiversity arise from confounded effects of different factors, such as climate, land cover and geographical location. Complementary statistical approaches that can show the relative effects of different factors are needed in biodiversity analyses in addition to classical multivariate models. Better understanding of the key factors underlying the variation in diversity requires the analyses of multiple taxonomic groups from different perspectives, such as richness, occurrence, threat status and population trends. The geographical coincidence of species richness of different taxonomic groups can be rather limited. This implies that multiple geographical regions should be taken into account in order to preserve various groups of species. Boreal agricultural biodiversity and in particular, distribution and richness of threatened species is strongly associated with various grasslands. Further, heterogeneous agricultural landscapes characterized by moderate field size, forest patches and non-crop agricultural habitats enhance the biodiversity of rural environments. From the landscape ecological perspective, the major threats to Finnish agricultural biodiversity are the decline of connected grassland habitat networks, and general homogenization of landscape structure resulting from both intensification and marginalization of agriculture. The maintenance of key habitats, such as meadows and pastures is an essential task in conservation of agricultural biodiversity. Furthermore, a larger landscape context should be incorporated in conservation planning and decision making processes in order to respond to the needs of different species and to maintain heterogeneous rural landscapes and viable agricultural diversity in the future.