Avian Evolutionary Genomics: Studies of Ficedula Flycatchers
Buggiotti, Laura (2007-12-08)
---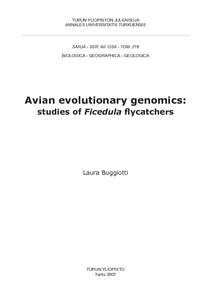 Turun yliopisto Annales Universitatis Turkuensis AII 218
08.12.2007
Julkaisun pysyvä osoite on:
http://urn.fi/URN:ISBN:978-951-29-3440-9
Kuvaus
Siirretty Doriasta
Tiivistelmä
In this thesis, different genetic tools are used to investigate both natural variation and speciation in the Ficedula flycatcher system: pied (Ficedula hypoleuca) and collared (F. albicollis) flycatchers. The molecular evolution of a gene involved in postnatal body growth, GH, has shown high degree of conservation at the mature protein between birds and mammals, whereas the variation observed in its signal peptide seems to be adaptive in pied flycatcher (I & II). Speciation is the process by which reproductive barriers to gene flow evolve between populations, and understanding the mechanisms involved in pre- and post-zygotic isolation have been investigated in Ficedula flycatchers. The Z chromosome have been suggested to be the hotspot for genes involved in speciation, thus sequencing of 13 Z-linked coding genes from the two species in allopatry and sympatry have been conducted (III). Surprisingly, the majority of Z-linked genes seemed to be highly conserved, suggesting instead a potential involvement of regulatory regions. Previous studies have shown that genes involved in hybrid fitness, female preferences and male plumage colouration are sex-linked. Hence, three pigmentation genes have been investigated: MC1R, AGRP, and TYRP1. Of these three genes, TYRP1 was identified as a strong candidate to be associated with black-brown plumage variation in sympatric populations, and hence is a strong candidate for a gene contributing to pre-zygotic isolation (IV). In sympatric areas, where pied and collared flycatchers have overlapping breeding areas, hybridization sometimes occurs leading to the production of unfit hybrids. By using a proteomic approach a novel expression pattern in hybrids was revealed compared to the parental species (V) and differentially expressed proteins subsequently identified by sequence similarity (VI). In conclusion, the Z chromosome appears to play an important role in flycatcher speciation, but probably not at the coding level. In addition the novel expression patterns might give new insights into the maladaptive hybrids.