Removal of Cadmium, Lead and Arsenic from Water by Lactic Acid Bacteria
Halttunen, Teemu (2008-01-28)
---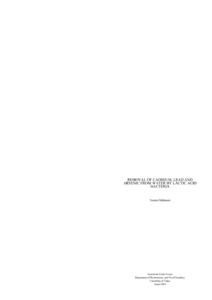 Turun yliopisto
28.01.2008
Julkaisun pysyvä osoite on:
http://urn.fi/URN:ISBN:978-951-29-3458-4
Kuvaus
Siirretty Doriasta
Tiivistelmä
A number of contaminants such as arsenic, cadmium and lead are released into the environment from natural and anthropogenic sources contaminating food and water. Chronic oral ingestion of arsenic, cadmium and lead is associated with adverse effects in the skin, internal organs and nervous system. In addition to conventional methods, biosorption using inactivated biomasses of algae, fungi and bacteria has been introduced as a novel method for decontamination of toxic metals from water. The aim of this work was to evaluate the applicability of lactic acid bacteria as tools for heavy metal removal from water and characterize their properties for further development of a biofilter.

The results established that in addition to removal of mycotoxins, cyanotoxins and heterocyclic amines, lactic acid bacteria have a capacity to bind cationic heavy metals, cadmium and lead. The binding was found to be dependent on the bacterial strain and pH, and occurred rapidly on the bacterial surface, but was reduced in the presence of other cationic metals. The data demonstrates that the metals were bound by electrostatic interactions to cell wall components. Transmission electron micrographs showed the presence of lead deposits on the surface of biomass used in the lead binding studies, indicating involvement of another uptake/binding mechanism. The most efficient strains bound up to 55 mg Cd and 176 mg Pb / g dry biomass. A low removal of anionic As(V) was also observed after chemical modification of the cell wall. Full desorption of bound cadmium and lead using either dilute HNO3 or EDTA established the reversibility of binding. Removal of both metals was significantly reduced when biomass regenerated with EDTA was used. Biomass regenerated with dilute HNO3 retained its cadmium binding capacity well, but lead binding was reduced.

The results established that the cadmium and lead binding capacity of lactic acid bacteria, and factors affecting it, are similar to what has been previously observed for other biomasses used for the same purpose. However, lactic acid bacteria have a capacity to remove other aqueous contaminants such as cyanotoxins, which may give them an additional advantage over the other alternatives. Further studies focusing on immobilization of biomass and the removal of several contaminants simultaneously using immobilized bacteria are required.