ErbB Ligands in Angiogenesis
Iivanainen, Erika (2008-02-01)
---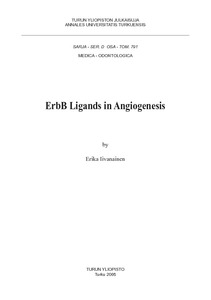 Turun yliopisto
01.02.2008
Julkaisun pysyvä osoite on:
http://urn.fi/URN:ISBN:978-951-29-3475-1
Kuvaus
Siirretty Doriasta
Tiivistelmä
The formation of new blood vessels, i.e. angiogenesis, is an important phenomenon during normal development and wound repair, as well as during various pathological processes, such as tumor growth and metastasis. Specific growth factors regulate angiogenesis by modulating the different cellular functions of endothelial cells (EC), and periendothelial cells, such as pericytes (PC) and smooth muscle cells (SMC), which interact with ECs in a paracrine manner.

ErbB receptors form a subgroup of transmembrane receptor tyrosine kinases that interact with growth factors of the epidermal growth factor (EGF) family. ErbB receptors regulate behaviour of a variety of normal as well as tumor cell types. Cancer drugs that target epidermal growth factor receptor (EGFR, ErbB1) or ErbB2 receptor have been approved for clinical use. It has been speculated that part of the antitumor activity of ErbB inhibitor compounds result from an antiangiogenic mechanism.

The results presented here indicate a role for endothelial-derived EGF-like growth factors heparin binding EGF-like growth factor (HB-EGF) and neuregulin-1 (NRG-1) in the paracrine regulation of angiogenesis. HB-EGF, EGFR and ErbB2 are shown to mediate interaction between ECs and SMCs in vitro, and gefitinib, an inhibitor of EGFR kinase activity, suppresses recruitment of PCs/SMCs in vivo. NRG-1 is shown to regulate EC functions in vitro and angiogenesis in vivo by indirect mechanisms involving vascular endothelial growth factor-A (VEGF-A) and VEGF receptor-2 (VEGFR-2). Furthermore, EGFR activity is demonstrated to regulate recruitment of bone marrow-derived perivascular cells during tumor neovascularization in vivo.

These results indicate that ErbB signaling is involved in the cellular processes of new blood vessel formation. This study gives new information about the role of ErbB ligands and receptors in angiogenesis and vasculogenesis and about the mechanisms by which ErbB inhibitor drugs such as gefitinib affect tumor growth.