Effects of Dietary Fat Oxidation Products and Flavonols on Lipoprotein Oxidation
Suomela, Jukka-Pekka (2006-10-27)
---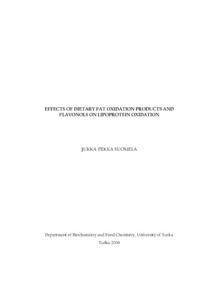 Turun yliopisto
27.10.2006
Kuvaus
Siirretty Doriasta
Tiivistelmä
Various studies suggest that oxidative modifications of low density lipoprotein (LDL), and also other lipoproteins, have an important role in the development of atherosclerosis. In addition to the oxidation products formed endogenously, oxidised triacylglycerols (TAG) and oxysterols in the diet contribute to the oxidised lipoproteins found in circulation. However, studies on both the effect of oxidised dietary lipids on lipoprotein lipid oxidation and the reactions that modify oxidised fat after ingestion have been scarce. Studies on the effects of dietary antioxidants on the lipid oxidation in vivo and the risk of atherosclerosis have been inconclusive. More clinical trials are needed to test the importance of lipoprotein oxidation as a cardiovascular risk factor in humans.

In the recent years, various methods have been optimised and applied to the analysis of lipid oxidation products in vivo, and information on the molecular structures of oxidised lipids in plasma, lipoproteins and atherosclerotic plaques has started to accumulate. However, specific structures of oxidised TAG molecules present in these tissues and lipoprotein fractions have not been investigated earlier. In the orginal research in this thesis, an approach based on highperformance liquid chromatographyelectrospray ionisationmass spectrometry (HPLCESIMS) and baseline diene conjugation (BDC) methods was used in order to investigate lipid oxidation level and oxidised TAG molecular structures in pig and human lipoproteins after dietary interventions.

The approach was optimised with human LDL samples, which contained various oxidation products of TAG. LDL particles of hyperlipidaemic subjects contained an elevated amount of conjugated dienes. In the pig studies, several oxidised TAG structures with hydroxy, keto, epoxy or aldehydic groups were found in chylomicrons and VLDL after diets rich in sunflower seed oil. Also, the results showed that oxidised sunflower seed oil increased the oxidation of lipoprotein lipids and their TAG molecules. TAG hydroperoxides could be detected neither in the small intestinal mucosa of the pigs fed on the oxidised oil nor in their chylomicrons or VLDL.6 In the clinical studies, dietary flavonol aglycones extracted from sea buckthorn berries did not have an effect on lipoprotein lipid oxidation and other potential risk factors of atherosclerosis, but their absorption was demonstrated. Oil supplementation seemed to increase the bioavailability of the flavonols. Oxidised TAG molecules were detected in LDL particles of the subjects after both flavonol and control diets.