Phylogeography and population genetics of north European Atlantic salmon (Salmo salar L.)
Tonteri, Anni (2008-03-01)
---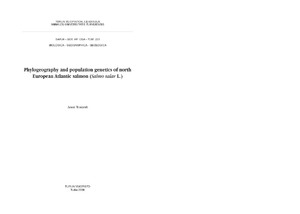 Turun yliopisto Annales Universitatis Turkuensis AII 220
01.03.2008
Julkaisun pysyvä osoite on:
http://urn.fi/URN:ISBN:978-951-29-3496-6
Kuvaus
Siirretty Doriasta
Tiivistelmä
Although abundant in the number of individuals, the Atlantic salmon may be considered as a threatened species in many areas of its native distribution range. Human activities such as building of power plant dams, offshore overfishing, pollution, clearing of riverbeds for timber floating and badly designed stocking regimes have diminished the distribution of Atlantic salmon. As a result of this, many of the historical populations both in Europe and northern America have gone extinct or are severely depressed. In fact, only 1% of Atlantic salmon existing today are of natural origin, the rest being farmed salmon. All of this has lead to a vast amount of research and many restoration programmes aiming to bring Atlantic salmon back to rivers from where it has vanished. However, many of the restoration programmes conducted thus far have been unsuccessful due to inadequate scientific research or lack of its implementation, highlighting the fact that more research is needed to fully understand the biology of this complex species.

The White and Barents Seas in northwest Russia are among the last regions in Europe where Atlantic salmon populations are still stable, thus forming an important source of biodiversity for the entire European region. Salmon stocks from this area are also of immense economic and social importance for the local people in the form of fishing tourism. The main aim of this thesis was to elucidate the post-glacial history and population genetic structure of north European and particularly northwest Russian Atlantic salmon, both of which are aspects of great importance for the management and conservation of the species. Throughout the whole thesis, these populations were studied by utilizing microsatellites as the main molecular tool.

One of the most important discoveries of the thesis was the division of Atlantic salmon from the White and Barents Seas into four separate clusters, which has not been observed in previous studies employing nuclear markers although is supported by mtDNA studies. Populations from the western Barents Sea clustered together with the northeast Atlantic populations into a clearly distinguishable group while populations from the White Sea and eastern Barents Sea were separated into three additional groups. This has important conservation implications as this thesis clearly indicates that conservation of populations from all of the observed clusters is warranted in order to conserve as much of the genetic diversity as possible in this area.

The thesis also demonstrates how differences in population life histories within a species, migratory behaviour in this case, and in their phylogeographic origin affect the genetic characteristics of populations, namely diversity and divergence levels. The anadromous populations from the Atlantic Ocean, White Sea and Barents Sea possessed higher levels of genetic diversity than the anadromous populations form the Baltic Sea basin. Among the non-anadromous populations the result was the opposite: the Baltic freshwater populations were more variable. This emphasises the importance of taking the life history of a population into consideration when developing conservation strategies: due to the limited possibilities for new genetic diversity to be generated via gene flow, it is expected that freshwater Atlantic salmon populations would be more vulnerable to extinction following a population crash and thus deserve a high conservation status.

In the last chapter of this thesis immune relevant marker loci were developed and screened for signatures of natural selection along with loci linked to genes with other functions or no function at all. Also, a novel landscape genomics method, which combines environmental information with molecular data, was employed to investigate whether immune relevant markers displayed significant correlations to various environmental variables more frequently than other loci. Indications of stronger selection pressure among immune-relevant loci compared to non-immune relevant EST-linked loci was found but further studies are needed to evaluate whether it is a common phenomenon in Atlantic salmon.