On Short Exponential Sums Involving Fourier Coefficients of Holomorphic Cusp Forms
Ernvall-Hytönen, Anne-Maria (2008-05-05)
---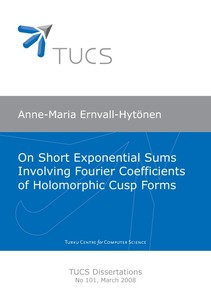 Ernvall-Hytönen, Anne-Maria
Turku Centre for Computer Science
05.05.2008
Kuvaus
Siirretty Doriasta
Tiivistelmä
By an exponential sum of the Fourier coefficients of a holomorphic cusp form we mean the sum which is formed by first taking the Fourier series of the said form,then cutting the beginning and the tail away and considering the remaining sum on the real axis. For simplicity's sake, typically the coefficients are normalized.
However, this isn't so important as the normalization can be done and removed simply by using partial summation.

We improve the approximate functional equation for the exponential sums of the Fourier coefficients of the holomorphic cusp forms by giving an explicit upper bound for the error term appearing in the equation. The approximate functional equation is originally due to Jutila [9] and a crucial tool for transforming sums
into shorter sums. This transformation changes the point of the real axis on which the sum is to be considered.

We also improve known upper bounds for the size estimates of the exponential sums. For very short sums we do not obtain any better estimates than the very easy estimate obtained by multiplying the upper bound estimate for a Fourier coefficient (they are bounded by the divisor function as Deligne [2] showed) by the number of coefficients. This estimate is extremely rough as no possible cancellation is taken into account. However, with small sums, it is unclear whether there happens any remarkable amounts of cancellation.