Measles virus infection – Interplay between virus and host cells
Berghäll, Heidi (2008-05-09)
---
Measles virus infection – Interplay between virus and host cells
(09.05.2008)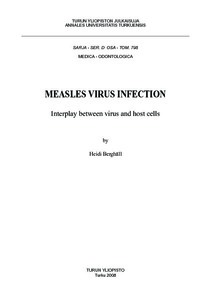 Turun yliopisto
Julkaisun pysyvä osoite on:
https://urn.fi/URN:ISBN:978-951-29-3541-3
Kuvaus
Siirretty Doriasta
Tiivistelmä
Measles, caused by measles virus (MV), is a highly contagious viral disease causing severe respiratory infection and a typical rash. Despite the availability of a protective vaccine, measles is still the leading vaccine-preventable cause of childhood mortality worldwide. The high mortality associated with the disease is mainly due to an increased susceptibility to secondary infections during the period of immunosuppression that continues for several weeks after recovery.

The present study was undertaken to elucidate the role of cytoskeletal components in the regulation of MV infection. The most interesting finding was that MV replication was activated in unstimulated peripheral blood mononuclear cells (PBMC) when globular actin was converted into the filamentous form with jasplakinolide. This provides a new aspect in our understanding of MV infection in PBMC.

In the second part of the thesis we investigated MV-induced structural changes of cellular nuclear matrix, which is a proteinaceous framework of the nucleus similar to the cytoskeleton in the cytoplasm. We showed that cleavage of nuclear markers was virusspecific and a general caspase inhibitor rescued MV-infected cells from cell death.

Furthermore, we studied MV-induced innate immune mechanisms in lung epithelial and endothelial cells. Our results showed that MV infection resulted in activation of the double stranded RNA (dsRNA) binding molecules melanoma differentiation-associated gene 5 (mda-5), retinoic acid inducible gene I (RIG-I), and toll-like receptor 3 (TLR3) gene expression, followed by high expression of antiviral cytokine mRNA.