Improvements in the Assessment of Bacterial Viability and Killing
Lehtinen, Janne (2007-09-21)
---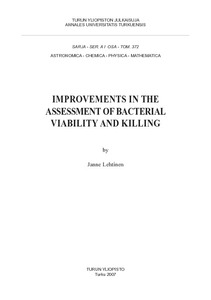 Turun yliopisto Annales Universitatis Turkuensis AI 372
21.09.2007
Julkaisun pysyvä osoite on:
http://urn.fi/URN:ISBN:978-951-29-3374-7
Kuvaus
Siirretty Doriasta
Tiivistelmä
It is axiomatic that our planet is extensively inhabited by diverse micro-organisms such as bacteria, yet the absolute diversity of different bacterial species is widely held to be unknown. Different bacteria can be found from the depths of the oceans to the top of the mountains; even the air is more or less colonized by bacteria. Most bacteria are either harmless or even advantageous to human beings but there are also bacteria, which can cause severe infectious diseases or spoil the supplies intended for human consumption. Therefore, it is vitally important not only to be able to detect and enumerate bacteria but also to assess their viability and possible harmfulness. Whilst the growth of bacteria is remarkably fast under optimum conditions and easy to detect by cultural methods, most bacteria are believed to lie in stationary phase of growth in which the actual growth is ceased and thus bacteria may simply be undetectable by cultural techniques. Additionally, several injurious factors such as low and high temperature or deficiency of nutrients can turn bacteria into a viable but non-culturable state (VBNC) that cannot be detected by cultural methods. Thereby, various noncultural techniques developed for the assessment of bacterial viability and killing have widely been exploited in modern microbiology. However, only a few methods are suitable for kinetic measurements, which enable the real-time detection of bacterial growth and viability.

The present study describes alternative methods for measuring bacterial viability and killing as well as detecting the effects of various antimicrobial agents on bacteria on a real-time basis. The suitability of bacterial (lux) and beetle (luc) luciferases as well as green fluorescent protein (GFP) to act as a marker of bacterial viability and cell growth was tested. In particular, a multiparameter microplate assay based on GFP-luciferase combination as well as a flow cytometric measurement based on GFP-PI combination were developed to perform divergent viability analyses. The results obtained suggest that the antimicrobial activities of various drugs against bacteria could be successfully measured using both of these methods. Specifically, the data reliability of flow cytometric viability analysis was notably improved as GFP was utilized in the assay. A fluoro-luminometric microplate assay enabled kinetic measurements, which significantly improved and accelerated the assessment of bacterial viability compared to more conventional viability assays such as plate counting. Moreover, the multiparameter assay made simultaneous detection of GFP fluorescence and luciferase bioluminescence possible and provided extensive information about multiple cellular parameters in single assay, thereby increasing the accuracy of the assessment of the kinetics of antimicrobial activities on target bacteria.