IN DUBIO PRO NATURA? A Philosophical Analysis of the Precautionary Principle in Environmental and Health Risk Governance
Ahteensuu, Marko (2008-06-10)
---
IN DUBIO PRO NATURA? A Philosophical Analysis of the Precautionary Principle in Environmental and Health Risk Governance
(10.06.2008)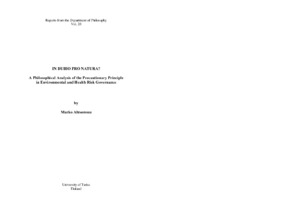 Turun yliopisto
Kuvaus
Siirretty Doriasta
Tiivistelmä
In this book, I apply a philosophical approach to study the precautionary principle in environmental (and health) risk decision-making. The principle says that unacceptable environmental and health risks should be anticipated, and they ought to be forestalled before the damage comes to fruition even if scientific understanding of the risks is inadequate. The study consists of introductory chapters, summary and seven original publications which aim at explicating the principle, critically analysing the debate on the principle, and constructing a basis for the well-founded use of the principle. Papers I-V present the main thesis of this research. In the two last papers, the discussion is widened to new directions.

The starting question is how well the currently embraced precautionary principle stands up to critical philosophical scrutiny. The approach employed is analytical: mainly conceptual, argumentative and ethical. The study draws upon Anglo-American style philosophy on the one hand, and upon sources of law as well as concrete cases and decision-making practices at the European Union level and in its member countries on the other. The framework is environmental (and health) risk governance, including the related law and policy.

The main thesis of this study is that the debate on the precautionary principle needs to be shifted from the question of whether the principle (or its weak or strong interpretation) is well-grounded in general to questions about the theoretical plausibility and ethical and socio-political justifiability of specific understandings of the principle. The real picture of the precautionary principle is more complex than that found (i.e. presumed) in much of the current academic, political and public debate surrounding it. While certain presumptions and interpretations of the principle are found to be sound, others are theoretically flawed or include serious practical problems.

The analysis discloses conceptual and ethical presumptions and elementary understandings of the precautionary principle, critically assesses current practices invoked in the name of the precautionary principle and public participation, and seeks to build bridges between precaution, engagement and philosophical ethics. Hence, it is intended to provide a sound basis upon which subsequent academic scrutiny can build.