Neurofilament proteins in the postnatal rat hippocampus. Developmental expression and changes in experimental epilepsy
López Picón, Francisco R. (2008-06-06)
---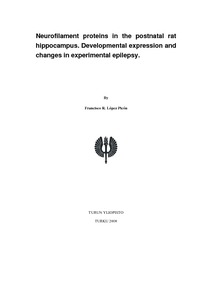 López Picón, Francisco R.
Turun yliopisto
06.06.2008
Julkaisun pysyvä osoite on:
http://urn.fi/URN:ISBN:978-951-29-3587-1
Kuvaus
Siirretty Doriasta
Tiivistelmä
Neurofilament proteins (NFs) are the major components of the intermediate filaments of the neuronal cytoskeleton. The three different NF proteins; the low (NF-L), medium (NF-M),and dendrites.NF proteins play an important role in neuronal development, and plasticity,and seem to contribute to the pathophysiology of several diseases. However, the detailed expression patterns of NF proteins in the course of postnatal aturation, and in response to seizures in the rat have remained unknown. In this work, I have studied the developmental expression and cellular distribution of the three NF proteins in the rat hippocampus during the postnatal development. The reactivity of NF proteins in response to kainic acid (KA)-induced status epilepticus (SE)was studied in the hippocampus of 9-day-old rats, and using in vitro organotypic hippocampal slices cultures prepared from P6-7 rats.

The results showed that NF-L and NF-M proteins are expressed already at the postnatal day 1, while the expression of NF-H mainly occurred during the second postnatal week. The immunoreactivity of NF proteins varied depending on the cell type and sub-cellular location in the hippocampus. In adult rats, KA-induced SE typically results in severe and permanent NF degradation. However, in our P9 rats KA-induced SE resulted in a transient increase in the expression of NF proteins during the first few hours but not degradation. No neuronal death or mossy fiber sprouting was observed at any time after SE. The in vitro studies with OHCs, which mimick the in vivo developing models where a local injection of KA is applied(e.g. intrahippocampal), indicated that NF proteins were rapidly degraded in response to KA treatment, this effect being effectively inhibited by the treatment with the AMPA receptor antagonist CNQX, and calpain inhibitor MDL-28170. These compounds also significantly ameliorated the KA-induced region-specific neuronal damage. The NMDA receptor antagonist and the L-type Ca2+ channel blocker did not have any significant effect.

In conclusion, the results indicate that the developmental expression of NF in the rat hippocampus is differentially regulated and targeted in the different hippocampal cell types during the postnatal development. Furthermore, despite SE, the mechanisms leading to NF degradation and neuronal death are not activated in P9 rats unlike in adults. The reason for this remains unknown. The results in organotypic hippocampal cultures confirm the validity of this in vitro model to study development processes, and to perform pharmacological studies. The results also suggest that calpain proteases as interesting pharmacological targets to reduce neuronal damage after acute excitotoxic insults.