Streptavidin - A Versatile Binding Protein for Solid-Phase Immunoassays
Välimaa, Lasse (2008-06-06)
---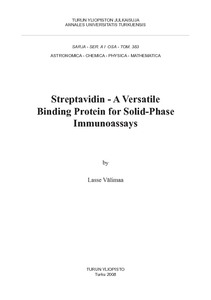 Turun yliopisto Annales Universitatis Turkuensis AI 383
06.06.2008
Julkaisun pysyvä osoite on:
http://urn.fi/URN:ISBN:978-951-29-3570-3
Kuvaus
Siirretty Doriasta
Tiivistelmä
Streptavidin, a tetrameric protein secreted by Streptomyces avidinii, binds tightly to a small growth factor biotin. One of the numerous applications of this high-affinity system comprises the streptavidin-coated surfaces of bioanalytical assays which serve as universal binders for straightforward immobilization of any biotinylated molecule. Proteins can be immobilized with a lower risk of denaturation using streptavidin-biotin technology in contrast to direct passive adsorption. The purpose of this study was to characterize the properties and effects of streptavidin-coated binding surfaces on the performance of solid-phase immunoassays and to investigate the contributions of surface modifications.

Various characterization tools and methods established in the study enabled the convenient monitoring and binding capacity determination of streptavidin-coated surfaces. The schematic modeling of the monolayer surface and the quantification of adsorbed streptavidin disclosed the possibilities and the limits of passive adsorption. The defined yield of 250 ng/cm2 represented approximately 65 % coverage compared with a modelled complete monolayer, which is consistent with theoretical surface models. Modifications such as polymerization and chemical activation of streptavidin resulted in a close to 10-fold increase in the biotin-binding densities of the surface compared with the regular streptavidin coating. In addition, the stability of the surface against leaching was improved by chemical modification. The increased binding densities and capacities enabled wider high-end dynamic ranges in the solid-phase immunoassays, especially when using the fragments of the capture antibodies instead of intact antibodies for the binding of the antigen. The binding capacity of the streptavidin surface was not, by definition, predictive of the low-end performance of the immunoassays nor the assay sensitivity. Other features such as non-specific binding, variation and leaching turned out to be more relevant.

The immunoassays that use a direct surface readout measurement of time-resolved fluorescence from a washed surface are dependent on the density of the labeled antibodies in a defined area on the surface. The binding surface was condensed into a spot by coating streptavidin in liquid droplets into special microtiter wells holding a small circular indentation at the bottom. The condensed binding area enabled a denser packing of the labeled antibodies on the surface. This resulted in a 5 - 6-fold increase in the signal-to-background ratios and an equivalent improvement in the detection limits of the solid-phase immunoassays.

This work proved that the properties of the streptavidin-coated surfaces can be modified and that the defined properties of the streptavidin-based immunocapture surfaces contribute to the performance of heterogeneous immunoassays.