New kernel functions and learning methods for text and data mining
Pahikkala, Tapio (2008-06-18)
---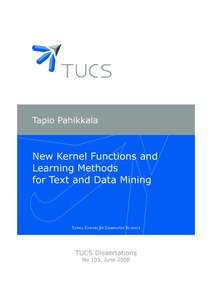 Turku Centre for Computer Science
18.06.2008
Kuvaus
Siirretty Doriasta
Tiivistelmä
Recent advances in machine learning methods enable increasingly the automatic construction of various types of computer assisted methods that have been difficult or laborious to program by human experts. The tasks for which this kind of tools are needed arise in many areas, here especially in the fields of bioinformatics and natural language processing. The machine learning methods may not work satisfactorily if they are not appropriately tailored to the task in question. However, their learning performance can often be improved by taking advantage of deeper insight of the application domain or the learning problem at hand. This thesis considers developing kernel-based learning algorithms incorporating this kind of prior knowledge of the task in question in an advantageous way. Moreover, computationally efficient algorithms for training the learning machines for specific tasks are presented.

In the context of kernel-based learning methods, the incorporation of prior knowledge is often done by designing appropriate kernel functions. Another well-known way is to develop cost functions that fit to the task under consideration. For disambiguation tasks in natural language, we develop kernel functions that take account of the positional information and the mutual similarities of words. It is shown that the use of this information significantly improves the disambiguation performance of the learning machine. Further, we design a new cost function that is better suitable for the task of information retrieval and for more general ranking problems than the cost functions designed for regression and classification. We also consider other applications of the kernel-based learning algorithms such as text categorization, and pattern recognition in differential display.

We develop computationally efficient algorithms for training the considered learning machines with the proposed kernel functions. We also design a fast cross-validation algorithm for regularized least-squares type of learning algorithm. Further, an efficient version of the regularized least-squares algorithm that can be used together with the new cost function for preference learning and ranking tasks is proposed. In summary, we demonstrate that the incorporation of prior knowledge is possible and beneficial, and novel advanced kernels and cost functions can be used in algorithms efficiently.