Spatiotemporal Aspects of Environmental Monitoring in the Complex Coastal Region of Southwest Finland
Erkkilä, Anne (2008-06-16)
---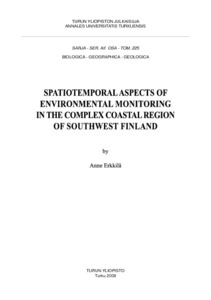 Turun yliopisto
16.06.2008
Julkaisun pysyvä osoite on:
http://urn.fi/URN:ISBN:978-951-29-3593-2
Kuvaus
Siirretty Doriasta
Tiivistelmä
The management and conservation of coastal waters in the Baltic is challenged by a number of complex environmental problems, including eutrophication and habitat degradation. Demands for a more holistic, integrated and adaptive framework of ecosystem-based management emphasize the importance of appropriate information on the status and changes of the aquatic ecosystems. The thesis focuses on the spatiotemporal aspects of environmental monitoring in the extensive and geomorphologically complex coastal region of SW Finland, where the acquisition of spatially and temporally representative monitoring data is inherently challenging. Furthermore, the region is subject to multiple human interests and uses. A holistic geographical approach is emphasized, as it is ultimately the physical conditions that set the frame for any human activity. Characteristics of the coastal environment were examined using water quality data from the database of the Finnish environmental administration and Landsat TM/ETM+ images. A basic feature of the complex aquatic environment in the Archipelago Sea is its high spatial and temporal variability; this foregrounds the importance of geographical information as a basis of environmental assessments. While evidence of a consistent water turbidity pattern was observed, the coastal hydrodynamic realm is also characterized by high spatial and temporal variability. It is therefore also crucial to consider the spatial and temporal representativeness of field monitoring data. Remote sensing may facilitate evaluation of hydrodynamic conditions in the coastal region and the spatial extrapolation of in situ data despite their restrictions. Additionally, remotely sensed images can be used in the mapping of many of those coastal habitats that need to be considered in environmental management. With regard to surface water monitoring, only a small fraction of the currently available data stored in the Hertta-PIVET register can be used effectively in scientific studies and environmental assessments. Long-term consistent data collection from established sampling stations should be emphasized but research-type seasonal assessments producing abundant data should also be encouraged. Thus a more comprehensive coordination of field work efforts is called for. The integration of remote sensing and various field measurement techniques would be especially useful in the complex coastal waters. The integration and development of monitoring system in Finnish coastal areas also requires further scientific assesement of monitoring practices. A holistic approach to the gathering and management of environmental monitoring data could be a cost-effective way of serving a multitude of information needs, and would fit the holistic, ecosystem-based management regimes that are currently being strongly promoted in Europe.