Bone Mineral Accrual in Physically Active Girls. With Special Reference to Reduction in Physical Activity Level and Use of Oral Contraceptives
Pikkarainen, Essi (2008-06-18)
---
Bone Mineral Accrual in Physically Active Girls. With Special Reference to Reduction in Physical Activity Level and Use of Oral Contraceptives
(18.06.2008)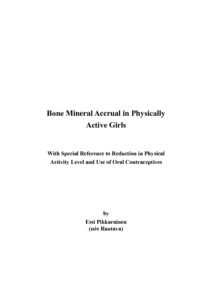 Turun yliopisto
Julkaisun pysyvä osoite on:
https://urn.fi/URN:ISBN:978-951-29-3596-3
Kuvaus
Siirretty Doriasta
Tiivistelmä
Adolescence is an important time for acquiring high peak bone mass. Physical activity is known to be beneficial to bone development. The effect of estrogen-progestin contraceptives (EPC) is still controversial.

Altogether 142 (52 gymnasts, 46 runners, and 42 controls) adolescent women participated in this study, which is based on two 7-year (n =142), one 6-year (n =140) and one 4-year (n =122) follow-ups. Information on physical activity, menstrual history, sexual maturation, nutrition, living habits and health status was obtained through questionnaires and interviews. The bone mineral density (BMD) and content (BMC) of lumbar spine (LS) and femoral neck (FN) were measured by dual- energy X-ray absoptiometry. Calcaneal sonographic measurements were also made.

The physical activity of the athletes participating in this study decreased after 3-year follow-up. High-impact exercise was beneficial to bones. LS and FN BMC was higher in gymnasts than in controls during the follow-up. Reduction in physical activity had negative effects on bone mass. LS and FN BMC increased less in the group having reduced their physical activity more than 50%, compared with those continuing at the previous level (1.69 g, p=0.021; 0.14 g, p=0.015, respectively). The amount of physical activity was the only significant parameter accounting for the calcaneal sonography measurements at 6-year follow-up (11.3%) and reduced activity level was associated with lower sonographic values.

Long-term low-dose EPC use seemed to prevent normal bone mass acquisition. There was a significant trend towards a smaller increase in LS and FN BMC among long-term EPC users.
In conclusion, this study confirms that high-impact exercise is beneficial to bones and that the benefits are partly maintained even after a clear reduction in training level at least for 4 years. Continued exercise is needed to retain all acquired benefits. The bone mass gained and maintained can possibly be maximized in adolescence by implementing high-impact exercise for youngsters. The peak bone mass of the young women participating in the study may be reached before the age of 20. Use of low-dose EPCs seems to suppress normal bone mass acquisition.